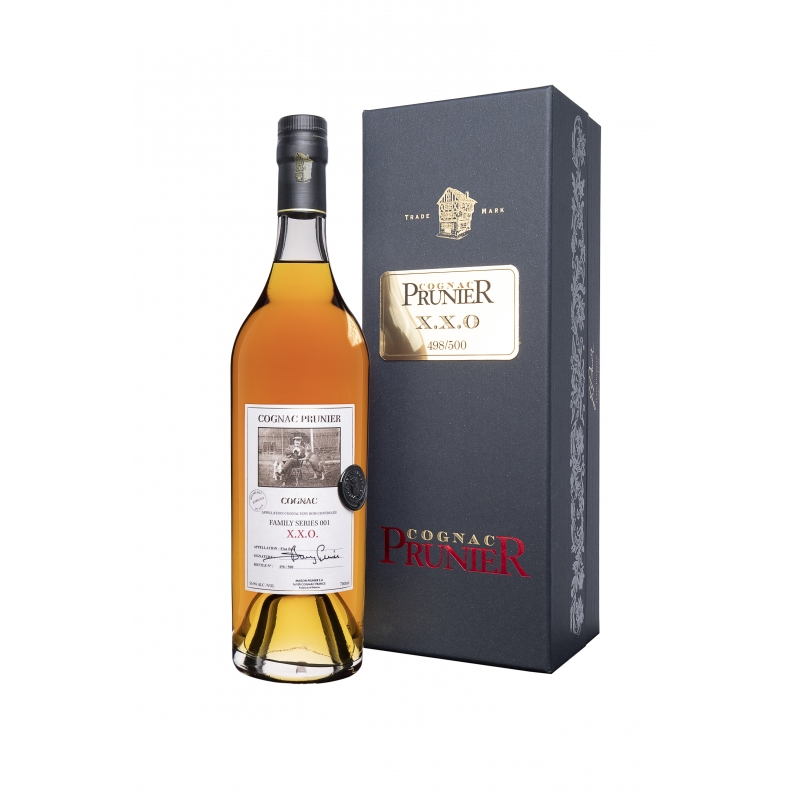  
XXO Cognac Prunier
Maison Prunier innovates and launches a new product: XXO (Extra Extra Old).
Limited edition !!
This new age, which represents at least 14 years of aging has been recognized as a generic term, thus entering the specifications of the Cognac controlled appellation.
Description
This XXO is the perfect example of the family and craft know-how that makes the brand famous.
The Cognac XXO Prunier is a blend of two vintage spirits from Fins Bois from 1992 and 1996, resulting from aging in wet cellars.
Both eaux-de-vie were stored in barrels sealed by a bailiff which gives a total and transparent guarantee of their aging time.
This cognac is raw, that is to say, its degree of alcohol has only been reduced naturally by time. In addition, no added sugar or caramel is part of this exceptional eau-de-vie.
The Maison Prunier's XXO is characterized by its complex aromatic and floral structure that will seduce any connoisseur of Cognac and bring it into the world of Maison Prunier's know-how.
Its golden color has bronze nuances, its delicate and complex nose reveals aromas of orange peel, cedar, almond and linden.
On the palate, fine tannins evoke the long aging of this Cognac in old barrels. We find the aromas of the nose with notes of liquorice, nuts and fresh hazelnut.
This makes it a very fine Cognac of Fin Bois from the north of Charente.
All bottles, boxes and certificates are numbered.
Each of the 500 labels is signed by the hands of the current President and CEO of Maison Prunier, Stéphane Burnez.
The 500 certificates are also signed by Stéphane Burnez and Dale Cooper.