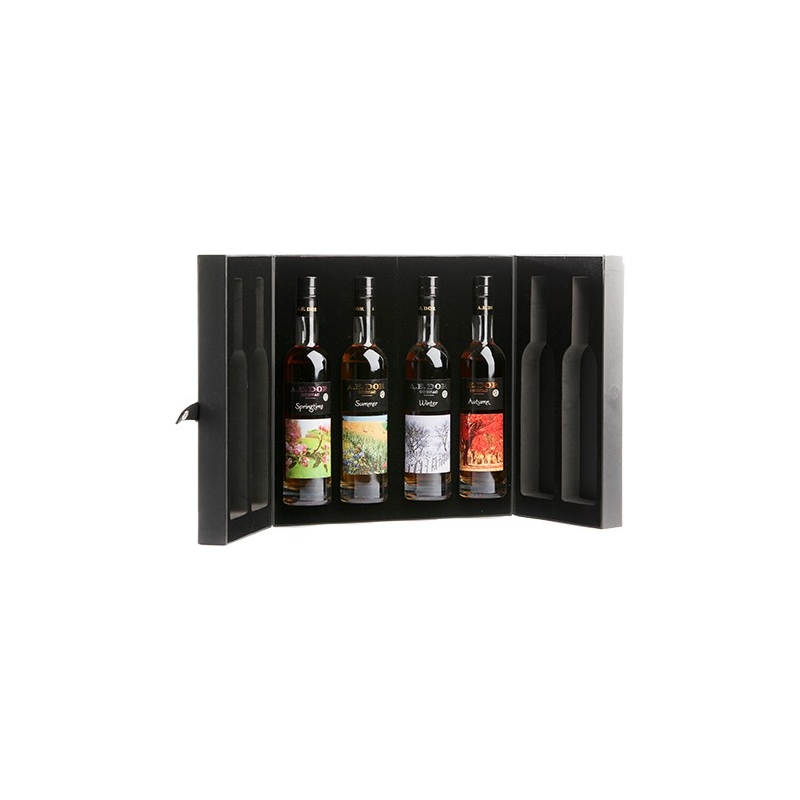  
Seasons Box Cognac A.E. Dor
This 4 seasons box reflects the passion of A.E. Dor Cognacs for the unusual and the extraordinary.

This box opens like a jewellery box: the cognacs (4 bottles of 200 ml) are arranged in their compartments, as if on velvet.
Description
These four bottles of the finest cognacs are inspired by the four seasons with singular aromas and tastes:

Spring: floral, with notes of lilac and almond, and a finish with violet aromas. Has beautiful colours with green highlights. A young cognac (3 years), imbued with the spirit of spring.

Summer: fruity and floral with aromas of apricot, peach, plum, orange and lime. Golden colour. A young (2-3 years), fresh cognac that perfectly illustrates summer.

Autumn: warm notes of cinnamon, vanilla, ginger and caramel. Autumnal colour with red and gold tones. An aged cognac (4-5 years) for a cosy autumn.

Winter: spicy aromas of coffee, toast, hazelnut and pepper. Golden colour. An aged cognac (4-5 years), which is best enjoyed in winter.