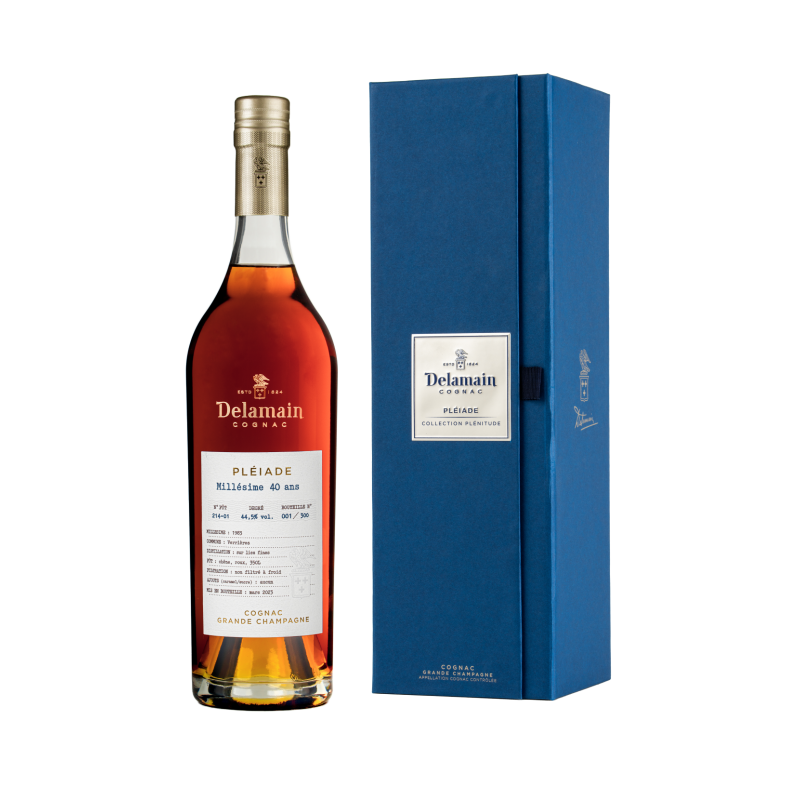  
Vintage 1983 40 years Collection Pléiade Delamain
Limited Edition of 300 bottles !
This 40 year old cognac comes from a distillery located in Verrières, in the Grande Champagne region, the first and best cru of Cognac. This commune with its hilly terrain is characteristic of this terroir, a land of finesse and elegance, where the old eaux-de-vie are produced.
Harvested in 1983, this eau-de-vie was born under trying weather conditions: after a cold and rainy winter and spring, the Cognac vineyards experienced a scorching summer, with a memorable storm in July 1983. In spite of these difficult conditions, the Maison Delamain presents a rare vintage.
Not cold filtered, with no added sugar or color, it reveals the purest expression of this exceptional year. This cognac has been aged to full maturity in 350L "roux" barrels made of Limousin oak. "Red" means that the inside of the barrel has taken on the reddish tint of the old barrels, which have the particularity of preserving the original typicity and elegance of Grande Champagne cognacs. This eau-de-vie began its ageing in a sealed barrel, placed in the chai N°5 in Jarnac. This small, south-facing cellar is rather dry, which allows the concentration of the cognac's aromas to develop.
In 2010, Dominique Touteau, our Cellar Master, decided to move this 1983 cask to the vintage cellar, whose hydrometric balance allows the eaux-de-vie to reveal their finesse. This cellar is emblematic of the house Delamain with its forged grid with double lock. The latter guarantees the vintage as it can only be opened in the presence of the cellar master and a representative of the control body (the BNIC).
Description
Intense and greedy, this 40 year old cognac reveals fruity notes of apricot, walnut which mingle with white flowers.
On the palate, the intensity is reinforced by notes of bitter orange peel, softened by notes of quince jam, lychees and figs.
At the end of the mouth, subtle spicy notes persist.