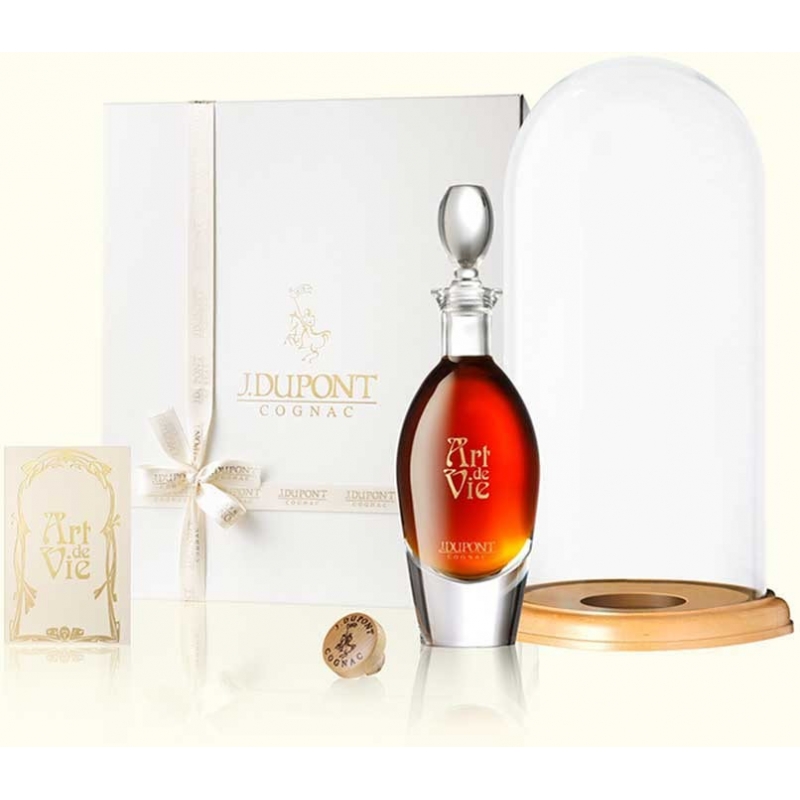  
Art de Vie Extra J.Dupont Cognac
Extra L'Art de Vie Cognac J. Dupont - Grande Champagne 1st cru of Cognac
More than a Cognac, it's an ode to the French living, an exceptional moment, it's an event in and of itself… L'Art de Vie !
Presented in crystal decanter
Description
Extra L'Art de Vie Cognac J. Dupont
With each immersion in the deliciously complex secrets of the Art de Vie eaux-de-vie, you enjoy an indescribable sensation, thanks to profusion of fruity, spicy and oak aromas… This intensity is a promise of our Master Cellar who is attesting it in a certificate.
At the zenith of its Art, Cognac J.DUPONT invites you to discover its inimitable and magic liquid gold, by rendering the inacessible accessible.
Dare to fall under the powerful spell of Art de Vie J.DUPONT and be surprised by the beauty of its Crystal decanter, a true masterpiece under its bell jar, produced in ultra-limied quantites in 365 copies.
Aspect : amber/mahogany with gold and red reflects
Bouquet : complexity or aromas such as orange mamalade, candied fruits. On the nose, aromas of spices, accompanied by a subtle touch of saffron and dried flowers (irises, narcissus)
Flavors : Great elegance, a richness or aromas of candied fruits (dry apricot, orange peel) that we find in the mouth.
Very long length and richness in the mouth that spreads out over time thanks to the flavors of old port, nutmeg and cigar box.