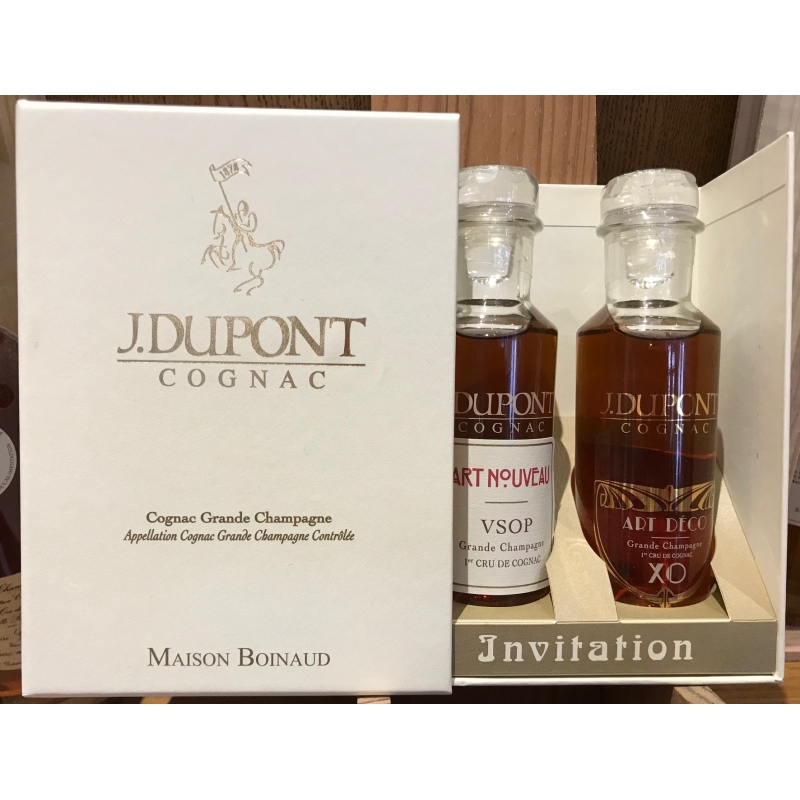  
Box Invitation VSOP J.Dupont Cognac
Box "Invitation " Cognac J.Dupont  : Grande Champagne 1er Cru de Cognac
An "Invitation" to discover or rediscover the best Cognac J. Dupont brandies, gathered here in an exceptional box.
2 x 10cl - 40%
Description
Box "Invitation " Cognac J.Dupont  : Grande Champagne 1er Cru de Cognac
L'Art Nouveau exceeds your expectations and pushes the aesthetic inventiveness of Cognacs of this rank to the extreme, by introducing the exceptional to the essential.
Let yourself be captivated by this Art Nouveau VSOP, and enter the space of an instant in a universe of personal fulfillment between Art and life, sensitivity and emotion.
L'Art Deco, subtle alchemy between the rational and the artistic, Art Deco XO makes you share with brightness, finesse and elegance, its spicy and honeyed richness, symbol of its modernism and its history.
Cognac J.DUPONT sublimates the ordinary Art of XO by seeking the fairest expression that transcends the very identity of this category of Cognac, by revealing the relevance of a blend of fully accomplished and mature spirits.
Your senses will be awakened when tasting this Cognac produced in limited quantities and whose artistic opulence takes you to discover the purity of its forms.