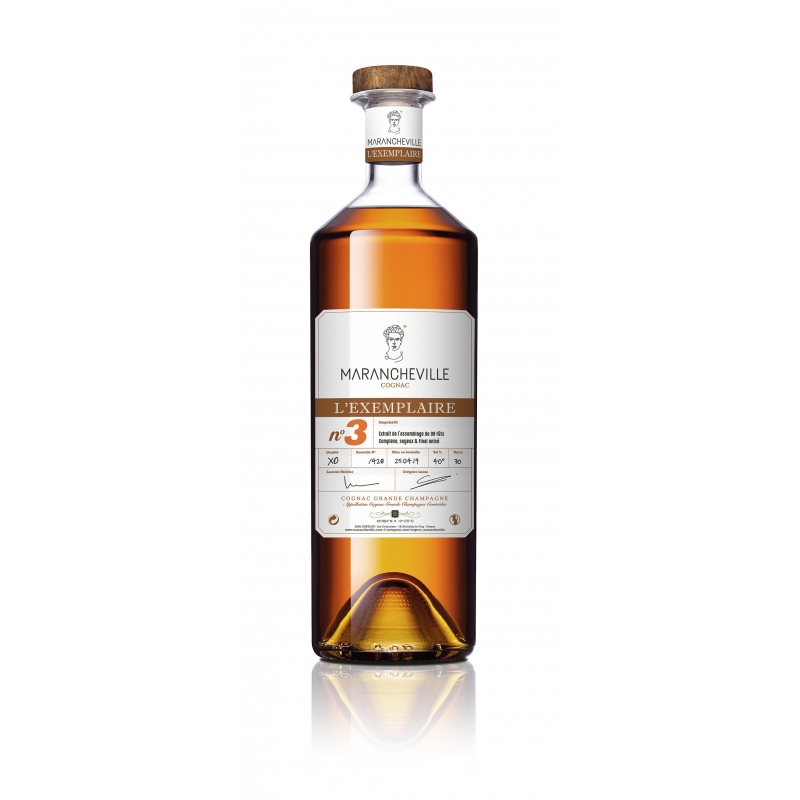  
L'Exemplaire N°3 Cognac Marancheville
Cognac Marancheville l'Exemplaire N°3 - Limited Edition 428 bottles

Small-batch selected with care, « L'Exemplaire » symbolizes our passion for singular cognacs.
Description
Cognac Marancheville l'Exemplaire N°3 :
Exemplaire N ° 3 perfectly illustrates the art of assembly, which is at the heart of the cognac tradition.
This third limited edition is the result of the successful marriage of the extract of 98 carefully selected barrels whose age ranges between 20 and 50 years.
The result is a particularly well-balanced cognac, whose complex notes are evidence of successful aging.
STYLE: Harmonious, presenting a beautiful unity
DRESS: Ambrée and Brillante
NOSE: Beautiful freshness, notes of badiane and licorice
MOUTH: Silky and supple, beautiful aging rancio
FINAL: Big length, with a finish with aniseed notes


APPELLATION: Cognac Grande Champagne Controlled - 1st Cognac Cru

CONTENANCE: 70cl

ALCOHOL RATE: 40% vol.