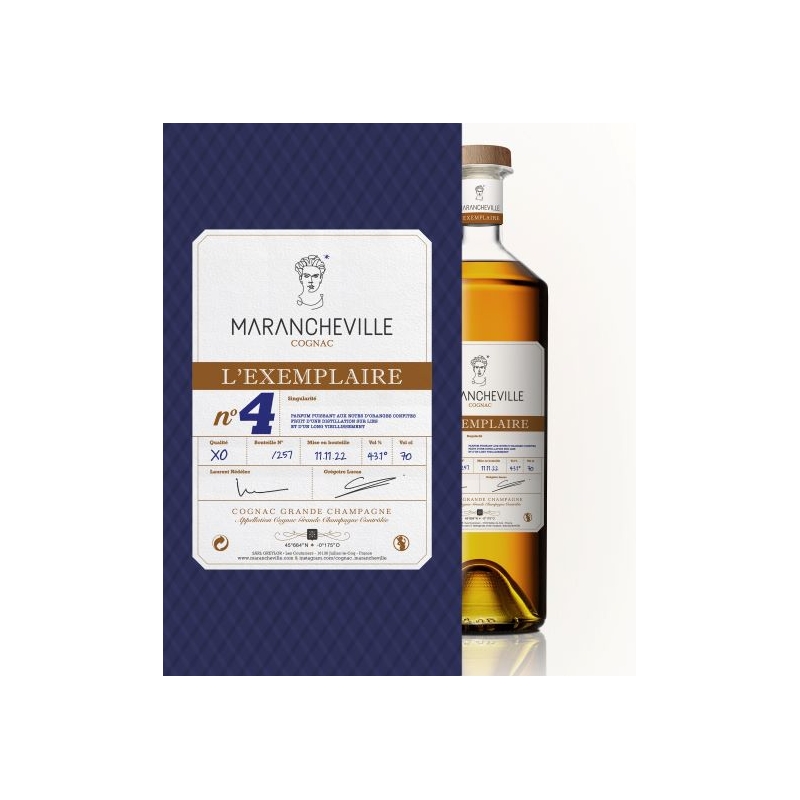  
L'Exemplaire N°4 Cognac MARANCHEVILLE
Carefully selected, the cognacs of the limited series "L'Exemplaire" symbolize the passion of the Marancheville House for unique cognacs.
Offered in small quantities and renewed every year, "Les Exemplaires" are the fruit of their know-how and inspiration.
Exemplaire N°4 is a blend of cognacs distilled on lees in the early 80's from family estates. It is a beautiful eau de vie whose singularity is typical of "Grande Champagne" and its clay-limestone soils: powerful and fruity! After a long ageing (35 to 40 years), during which the aromas are slowly concentrated, it gives off a beautiful complexity where the note of candied orange is particularly present and will not leave the amateurs insensitive.
Limited edition of 257 copies!
Description
Tasting Notes:
Color: mahogany color with a lot of brightness
Nose : beautiful intensity, notes of candied oranges and jasmine, structured by beautiful woody notes
Palate : a lot of expression, a beautiful rancio typical of old brandies, a lot of complexity and a good length !
A powerful cognac, vivacious, with intense aromas