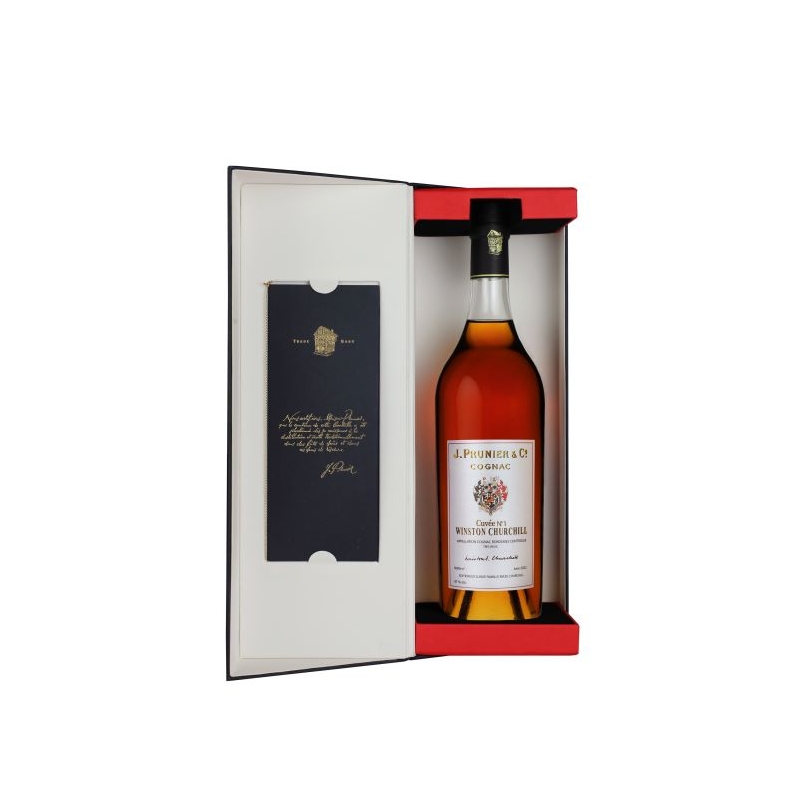  
Cuvée Churchill N°1 Borderies Cognac PRUNIER
A prestigious Cuvée from the Borderies terroir elaborated in tribute to Winston Churchill!
Limited Edition of 925 bottles!
In July 1945, Winston Churchill organized a dinner in Potsdam, the place chosen for the last major conference of the Second World War. Among the 28 guests were US President Truman and Soviet leader Stalin. 
Churchill personally took charge of all the preparations, from the food to the wine that was served, because he felt so strongly about it.
The dinner proved to be a diplomatic success and ended with a toast by Churchill and Stalin with Prunier cognac.
Churchill was a true connoisseur of good food, champagne, cigars and cognac (often called "brandy" by the British in his time). More than any other politician of his time, he used these pleasures of the table and enjoyed dinners to further his political and diplomatic goals.
At a time when it was frowned upon to engage in political discussion over dinner, he took the opposite approach and abandoned protocol for table diplomacy. It was at events like this that some of the most important decisions of World War II were made among the great leaders.
"He is a man of simple tastes; he is quite easily satisfied with the best of everything." said a friend of Winston Churchill.
Description
This exceptional, rare and ancient cognac is a blend of two magnificent Borderies eaux-de-vie from 1967 and 1970, limited to 925 bottles.
It reflects the style and age of the cognac so loved by Sir Winston Churchill.
Winston Churchill was an acknowledged expert and connoisseur of old cognacs. In his time, some small specialized houses produced for their customers very old and exceptional cognacs in limited quantities. These houses may have disappeared today, but this cognac, superbly crafted by the Maison Prunier, offers an opportunity to discover a unique eau-de-vie in the style so appreciated by Churchill. 
There is a close link between Sir Winston Churchill and the Maze Churchill family who have been producing cognac for over 40 years in the Borderies region of Cognac. Jeanne Maze Churchill and her husband Robert Churchill, the current generation, are proud to work with the Maison Prunier to create this first Winston Churchill Cuvée.
Tasting Notes:
Color: Bright, very bright, clear gold.
Nose: Notes of roasted orange, figs associated with cinnamon and a hint of licorice. Very precise, fine, complex and naturally supple. Beautiful harmony in the whole.
Palate : Soft attack, naturally round and refined. Almond aromas are present, associated with a nice saline approach. The mouth is well balanced and the finish is clean and persistent.
A beautiful and delicate Cognac, subtle and feminine in its approach.