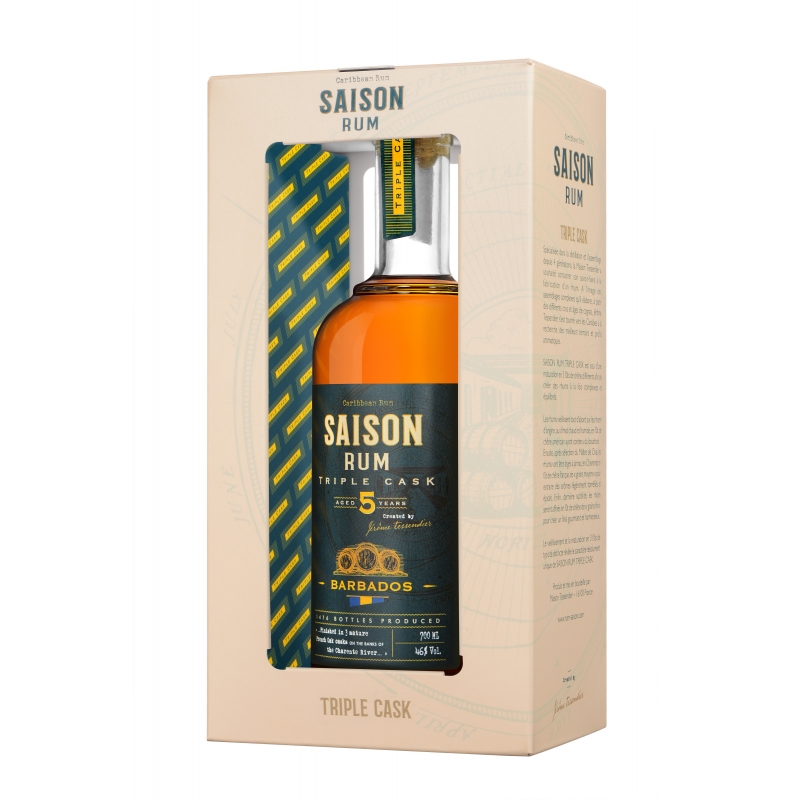  
Triple Cask Rum Saison Barbados 5 years
Triple Cask Rum Saison Barbados 5 years - Limited Edition !

A meticulous selection of distillates from the unique terroir of Barbados.
Description
Triple Cask Rum Saison Barbados 5 years - Limited Edition !
The intention of the Master Blender is to showcase the typicity of this terroir in a perfect balance, thanks to the richness and intensity from the distillation of molasses in pot stills combined with the delicacy and lightness from the sugarcane distillation in columns.
The selected rums primarily age 3 years in American white oak casks which previously contained bourbon. The ageing takes place in Barbados, taking advantage of the heat and specific hygrometry of the Island which give a unique oxidation to the future rum, accelerating maturity and concentrating flavors.
The aged rums now voyage across the ocean to France to be blended by the Cognac Master Jérôme Tessendier. His intent is to reveal the character of the terroir of Barbados thanks to a singular technique, blending the different batches according to their various aromatic profiles: floral, fruity and spicy.
Then, the blend rests in mature « medium grain » French oak barrels in Jarnac (France) to extract slightly roasted and spicy aromas.
Finally, last subtlety, the rum will be finished in « fine grain » French oak barrels to create a delicious and harmonious finale. The rum is then gradually reduced to 46%. No sugar is added.
The ageing and finishing in 3 different types of barrels reveal the resolutely unique character of SAISON RUM TRIPLE CASK BARBADOS.
Everyone will live their own experience, depending on their mood, some of us will choose to enjoy it in a tulip glass at room temperature, others will prefer a tasting on the rocks in a tumbler glass.
Keep in mind that the most important is to have a good time and ideally to share your own SAISON RUM BARBADOS experience.