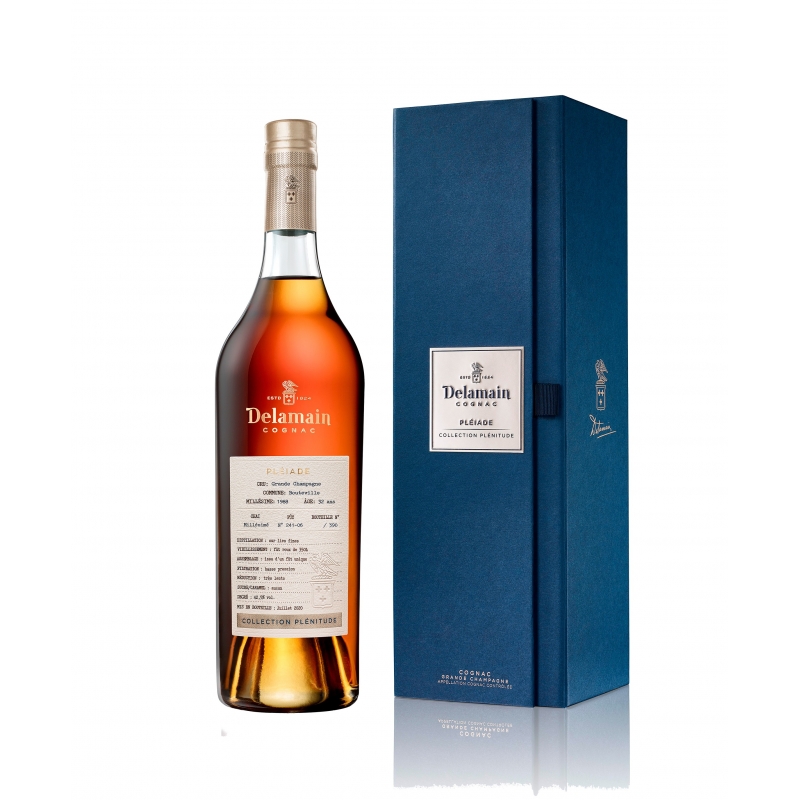  
Vintage 1988 Collection Plenitude - Pleiade de Delamain
Vintage 1988 Collection Plenitude - Pleiade de Delamain - 42.5%
Produced in limited series, the Pléiade is based on three collections, defined according to the length of ageing: Revelation, Plenitude, Apogee.

The Plénitude collection is characterised by the intensity and length associated with long ageing. It offers pure elegance and the power that comes from maturity.
Description
La Pléiade de Delamain honours treasures from its historic cellars, personally selected by the Cellar Master, Dominique Touteau.

Produced from a single harvest or a single vineyard, from a single barrel and therefore offered without blending, these cognacs have taken the time to age and are presented without any addition of sugar or caramel, thus expressing their absolute purity.
Vintage 1988 Collection Plenitude - Pleiade de Delamain - 42.5%
This 1991 vintage was aged in a 350L "roux" barrel made of oak traditionally from the forests of Tronçais.

"Roux" means that the inside of the barrel has taken on the reddish tint of the old barrels, which have the particularity of preserving the original typicity and elegance of Grande Champagne Cognacs.


Tasting notes by Dominique Touteau :

NOS: Complex with notes of almond, leather and pepper with a hint of mango and vanilla that gradually reveals itself.

PALATE: cashew nut combined with aromas of ripe pear and marzipan.