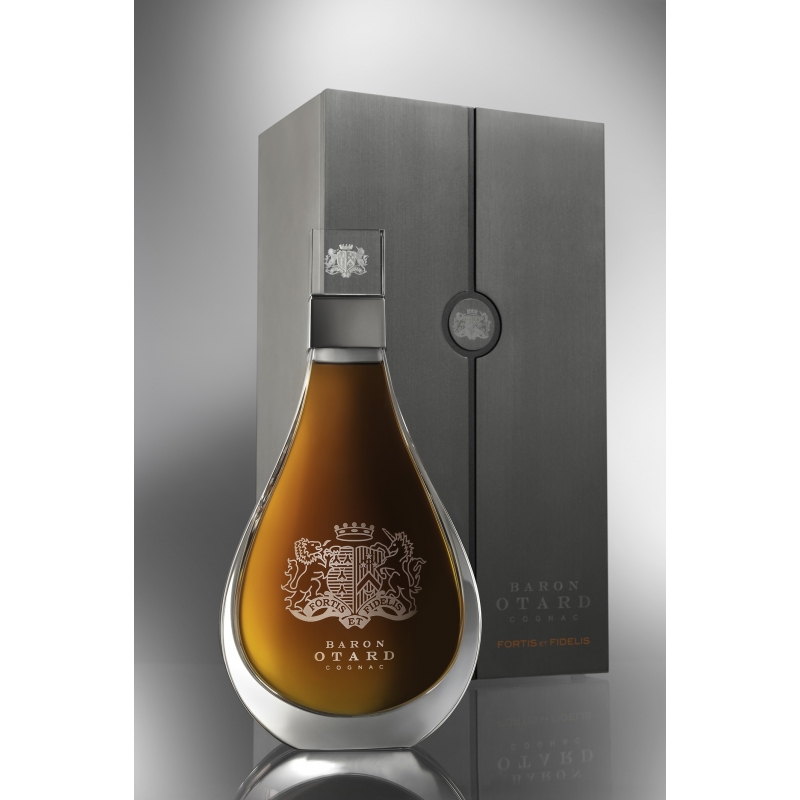  
Fortis et Fidelis Grande Champagne Cognac Baron Otard
BARON OTARD Cognac renders homage to its founder by creating "Fortis et Fidelis".
The motto featured on the coat of arms of the Otard family for centuries means "Strength and Loyalty". It symbolises the values upheld by Baron Otard in his time...
Description
The Baron was respected by his peers for his humanity, and his heart was laid in Saint-Léger Church in Cognac to honour his memory when he died in 1824. no name could be more suitable than "Fortis et Fidelis" to describe the nobility of this blend.
The rarest of eaux-de-vie have been carefully kept for generations to craft this exceptional blend. These eaux-de-vie from time immemorial sublimate the precious character of this Cognac. Our Cellar Master has taken infinite care in putting together this sublime blend, before laying it down in the cellars of the chateau to ennoble it. The royal Chateau of Cognac was bought by BARON OTARD for its unique ageing conditions: the thickness of its walls and the nearby Charente river guarantee a constant temperature and ideal humidity level. Fortis et Fidelis takes you back to the times when the noble spirit of BARON OTARD was acknowledged by all.
Bouquet:
The powerful, generous attack reveals dominant plum fragrances and walnut hints. Smooth spices, in particular nutmeg, magnify the overall impression of the composition. a sweet hint of candied orange mingles with the nobility of a robust leather scent in the finish.
Palate:
Thanks to its great maturity, Fortis et Fidelis rolls out an opulent wealth of flavours. Delicate hints of prunes combine harmoniously with a subtle touch of "rancio". A sweet crystallised fruit flavour lingers on the taste buds, while a pinch of spices caresses the palate.