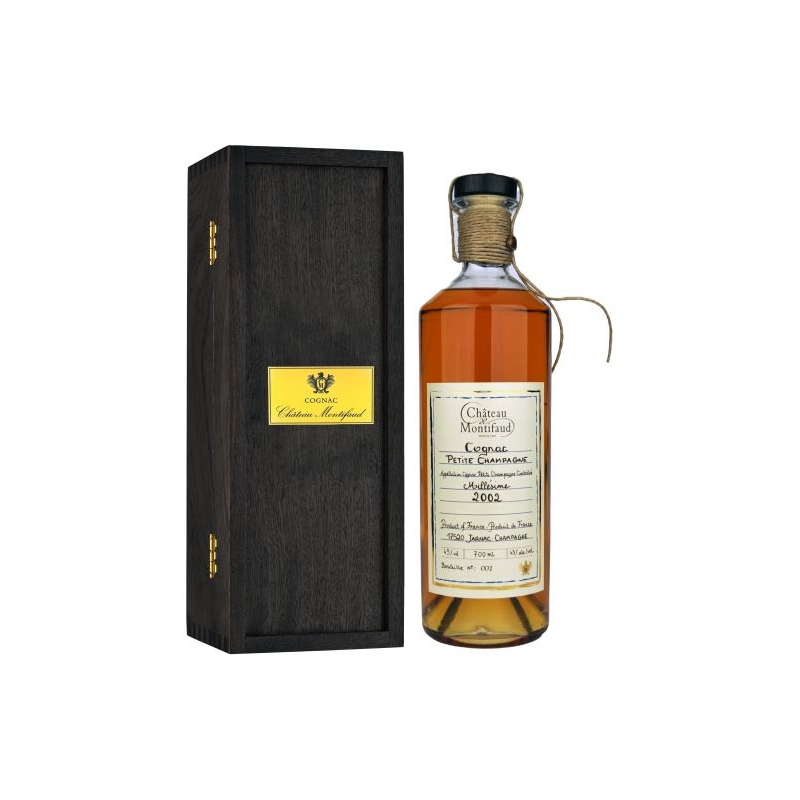  
Vintage 2002 Petite Champagne Cognac Chateau Montifaud
A 2002 vintage from the Petite Champagne terroir Very Limited Edition !

This eau-de-vie has been aged for many years in "roux" barrels (French oak, from Limousin) in our own cellars.

The putting in barrels is done under the control of a BNIC representative.

Reduction: slow (max.5 degrees every 2/3 months) this is also done under the supervision of a BNIC representative.

Bottling: done at the domain, each bottle is counted by a BNIC representative.
Description
Tasting Notes:

This cognac has a golden yellow color.

It is dry, well balanced, with a nice structure.

On the nose we find aromas of leather, clove and undergrowth as well as notes of licorice.

On the palate, this cognac expresses itself through aromas of vanilla and cocoa.

Its great finesse and its dried flower scents give it a very interesting length.

Controlled by the Bureau Interprofessionnel du Cognac (BNIC), this cognac is offered to you numbered and in limited quantities.