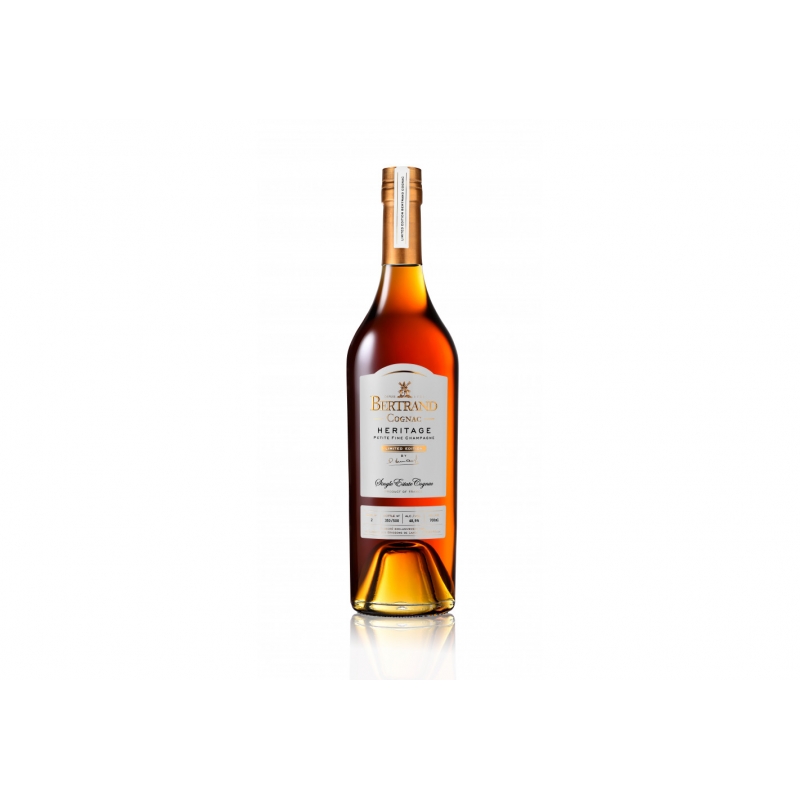  
Heritage N°2 Limited Edition Cognac Bertrand
Cognac Bertrand Heritage N°2 Limited Edition :
The Bertrand family's Heritage is a story about Simone and Raymond, both from Cognac producing families of the Petite Fine Champagne.
Simone has lived her entire life at the Domaine des Brissons, where she learned the ways from her father. Raymond's family has been in Reaux since 1731, with a windmill and vines at the Domaine de Laage. Simone and Raymond married in 1948, and combined the two domaines into one, forming the Domaine des Brissons de Laage.

The 'eaux-de-vie' from the first ten years of Simone and Raymond's time together at the Domaine was heated on small (8 hectoliters) wood-fired stills that have since been lost to the ages. They recognized one lot in particular, and set it aside in the 1960's for a long ageing in 'red' casks. The 'eau-de-vie' rested for more than half a century, untouched. This lot represents the Heritage of Simone and Raymond, passed down to their grandchildren, Therese and Samuel, who run the family business today.

Long recognized by the family as an 'eau-de-vie' of exceptional quality, the Heritage lot is the origin of cask-strength offerings from Bertrand. The genuine enthusiasm from a Norwegian afficionado and fellow 'Cognac geeks' inspired a first bottling of 500 Heritage in December 2018.
The Heritage No.2 is a second bottling of 500 from the original lot, with three additional years of ageing.
Description
Tasting notes:
Eye: 
Radiant with hues from amber to mahogany
Nose:
Intense and complex, ever evolving, the very definition of rancio. Concentrated fruit and floral aromas up front. Baking spices and subtle woody notes underneath. Lightly toasted brioche with apricot preserves and vanilla bean. Delicate walnut cake with candied orange and nutmeg. 
Palate:
Full and structured, velvety mouthfeel, good rancio throughout. Light on the palate and incredibly complex. Stewed fruit on the front, with spicy notes across the mid-palate. The peak of spice gives way to concentrated fruit with notes of honey, baking spice, and sparks of citrus. Warm and enduring finish, lingering fruit and citrus.