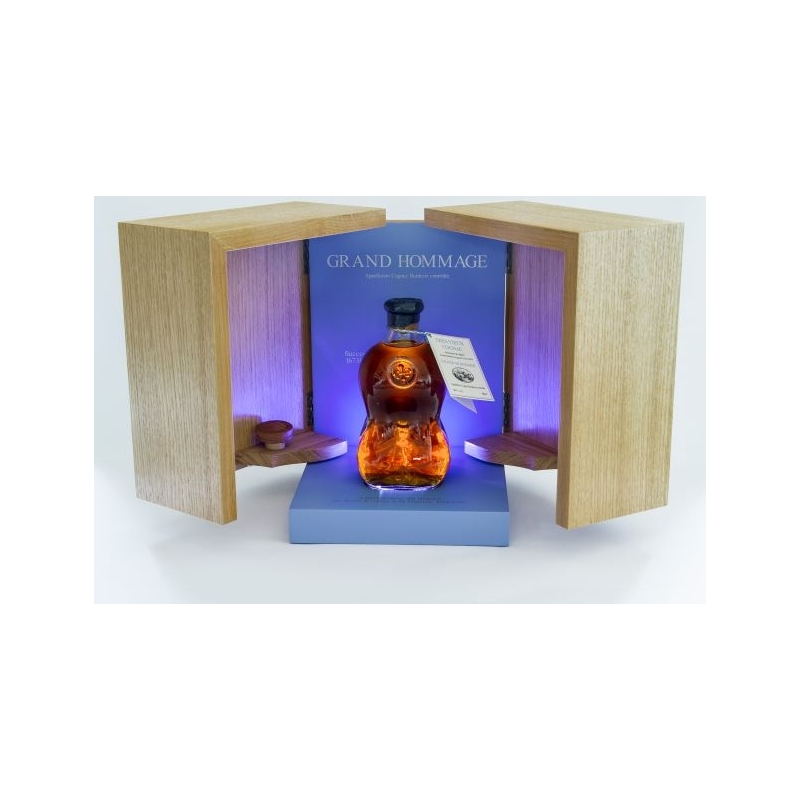  
Grand Hommage Prestige Hors d'Age Cognac René Rivière
Grand Hommage Présentation Prestige Hors d'Age Cognac René Rivière
A very limited edition !

A prestigious presentation for this Cognac that is at least 70 years old!

A decanter chosen from a unique and original batch saved since the beginning of the 20th century.

Each decanter is presented in a two-door oak case, created by Les Ateliers Drevelle, labelled "Grands Ateliers de France"!
Description
Each decanter is stamped with a mouth-blown medallion, which gives these bottles an extra touch of elegance, delicately placed on a "horizon blue" stirrup.

Tradition and modernity are now associated with the "Grand Hommage" to give it a perfume of eternity...

A Cognac from the Borderies with at least 70 years of barrel ageing and which benefits from an expertise certifying that this cognac predates the First World War.

This unique collection was made in memory of the departure of René Rivière, my grandfather, to the war.

Let yourself be seduced by its amber colour with a coppery aspect.

Tasting notes:
An amber dress with a coppery look
On the nose first, and then on the palate, the complexity of its aromas is slowly expressed as the flavors of candied fruits, vanilla, almonds and honey are gradually revealed, supported by some notes of mocha and spices.
A subtle rancid hairs this flowery and velvety set and finishes to reveal the perfumes still dormant in the glass. Finesse, roundness, elegance such are the qualifiers that can claim this Cognac "Grand Tribute" majestic and exceptional.