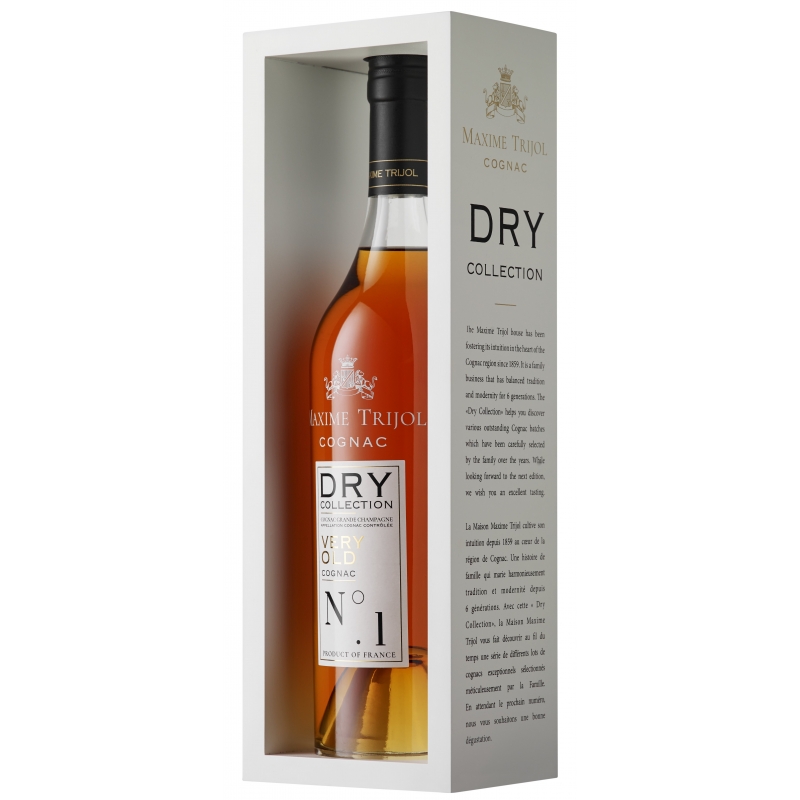  
Dry Collection Lot 1 Tres Vieux Cognac Grande Champagne Maxime Trijol
Cognac Maxime Trijol Dry Collection Lot N°1 Very Old Cognac Grande Champagne First Cru
Limited Edition
Description
The Maxime Trijol house has been fostering its intuition in the heart of the Cognac region since
1859. lt is a family business that has balanced tradition and modernity for 6 generations.
The «Dry Collection» helps you discover various outstanding Cognac batches which have been
carefully selected by the family over the years.
This batch no. 1 is a very old Cognac Grande Champagne with an alcohol content of 43% by
volume.
TASTING COMMENTS

Visual: orange color, copper-colored reflections.
The first nose is quite strong and reveals a good aromatic complexity with a fruity dominance
(prune, candied orange and walnut) and hints of vanilla.
The second nose reveals well-melted wood, cigar box with a light rancio.

The attack is soft in mouth with retro-olfactory aromas confirming those revealed with the nose.
The finale is round, long and delicate.
In conclusion, it is a great, very balanced, harmonious cognac, which will probably make
enlightened amateurs happy.