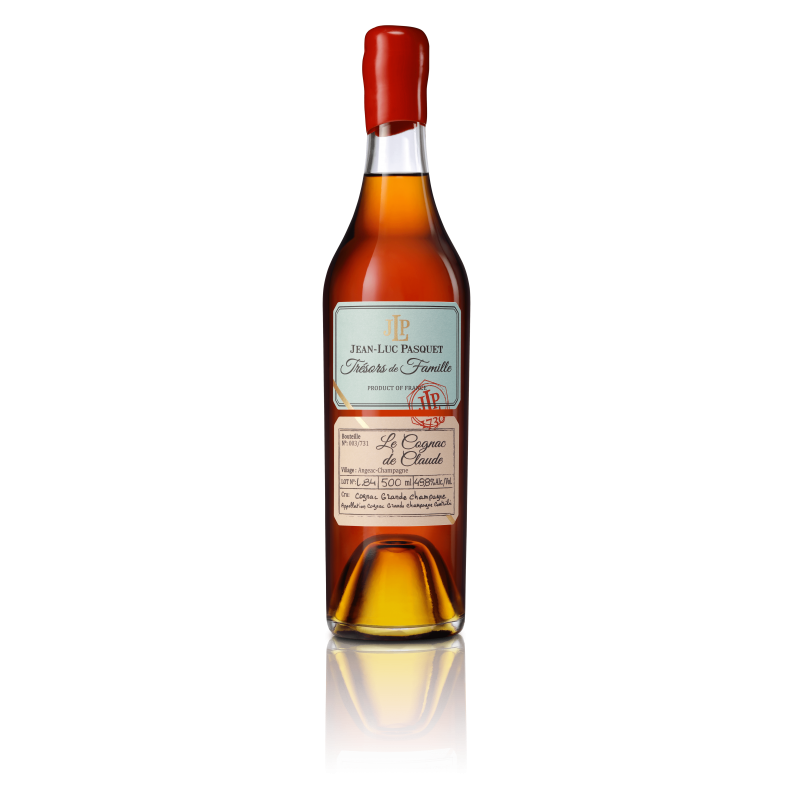  
Le Cognac de Claude L84 - Pasquet "Trésor de Famille"
Le Cognac de Claude - Pasquet "Trésor de Famille" / Limited Edition
It is with particular emotion that we present this Cognac by Claude L84 to you because it inaugurates our brand new "Trésor de Faimlle" collection. On August 02, 2021, we drew from this unique cask 732 bottles at the degree of 49.8% vol.

Description
Since the day they married, Claude and Arlette have dedicated their lives to looking after their vineyards, their family and their business, all with great care. Today, their grandchildren, Laura and Adrien, tend the same vines with the same painstaking precision. In fact, Laura let us know that her grandparents were so devoted to their vines, they had planted the day after their own wedding.
Le Cognac de Claude comes from a vineyard that had been in the family of Claude's mother; it is currently farmed by the fifth generation of the same family. Love of a job well-done runs deep in the Hilaire veins. Claude began working full-time, around the age of 14, after having finished his "certificat d'études" which equates to the end of middle school. Arlette comes from a family of vintners, too, and although she moved a few kilometers, her life remained one tied to the land.
Each member of the clan finds the place where he or she is most productive and can add to producing the cognac, distilled on the property since anyone can remember. Both Claude and his wife distilled, but it was Arlette who spent most winter nights at their wood-burning distillery. Subsequently, she taught Laura her craft and still returns to check on her granddaughter at their potstill.
Before contracts with the big houses existed, most grower/distillers stocked cognacs and only sold what was necessary, when it was necessary. Today, most vintners in the region, sell their entire harvest, or nearly all of it, but with Claude's family, the tradition remains how it was for centuries: they continue to store more than three quarters of the eaux-de-vie they craft.
We look forward to tasting what will come out of their cellars for decades to come, beginning with the incredible Grande Champagne cognac in this bottle. On August 2, 2021, from one single cask, we were able to make 731 bottles of Le Cognac de Claude at 49.8%
Description : A single 400 liter cask of cognac from the Hilaire family's Angeac-Champagne vineyards was bottled to make Le Cognac de Claude. The barrel was nearly full and its contents are this beautiful example of fruit and excellent wood-integration from the Grande Champagne.
Lot N°: L.84
Age : 36 years
Cru : Grande Champagne
Grape variety : 100% Ugni blanc
Contents : 500 ml
Alcohol: 49.8% alc./vol.
Tasting notes :
Color: golden amber
Bouquet: Welcoming aroma of honey with some hints of yogurt, apples, rosemary and garden herbs, reminiscent of Glen Scotia whiskies.
Palate: Extremely complex, with slightly herbaceous notes, followed by spices, raisins and ripe white fruit. Very nice finish, balanced worthy of this wonderful terroir of Grande Champagne