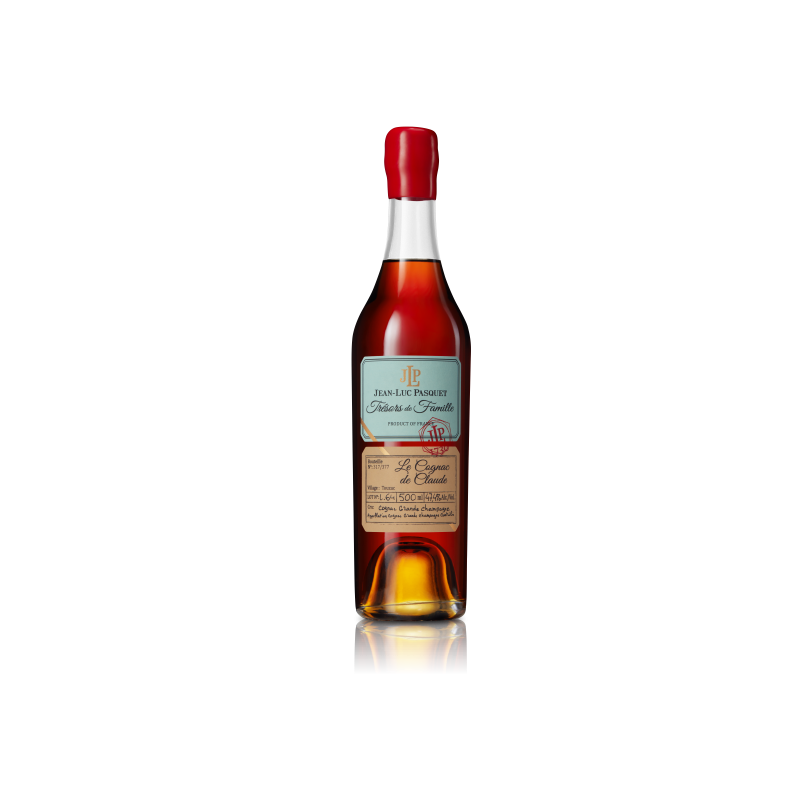  
Le Cognac de Claude L64 "Trésors de Famille" Jean-Luc Pasquet
Very limited edition!
Only 1 per person
This remarkable "Cognac de Claude L64" is the result of the work of Marie-Rose and Claude DULUC, retired brokers in the commune of Touzac, in the heart of the Grande Champagne region.
The cognac broker, an important figure, is the privileged contact for winegrowers and trading houses, and is the guarantor of the proper conduct of transactions.
Between 1961 and 1971, before becoming a broker, Claude worked as a sharecropper in a vineyard close to the family estate. This cognac comes from one of his first harvests and was distilled in the still installed in 1938 by his maternal grandfather Jérôme GLÉMET. He cultivated the vineyard for 10 years and had to hand it over to the owner family.
Afterwards, Claude became a bus driver, a chestnut producer and then a broker. He lived through the crises and the good times of cognac and became an inexhaustible source of tasty anecdotes about the history and people of the cognac region.
From a single cask, only 377 bottles of this "Cognac de Claude L64" were drawn on 04 August 2022.
Description
Tasting notes :
Colour: Amber / Mahogany
Nose: very expressive, surprisingly fresh and vibrant for its age, passion fruit predominates, followed by peach (in syrup), currants, a few notes of toasted sesame seeds, and floral notes of rose and jasmine.
Palate: the attack is frank without being aggressive, fruity, we find the notes of passion fruit and peach, the mouth reveals a beautiful tannic structure balanced by the floral notes, some notes of sauternes, long and tasty finish.