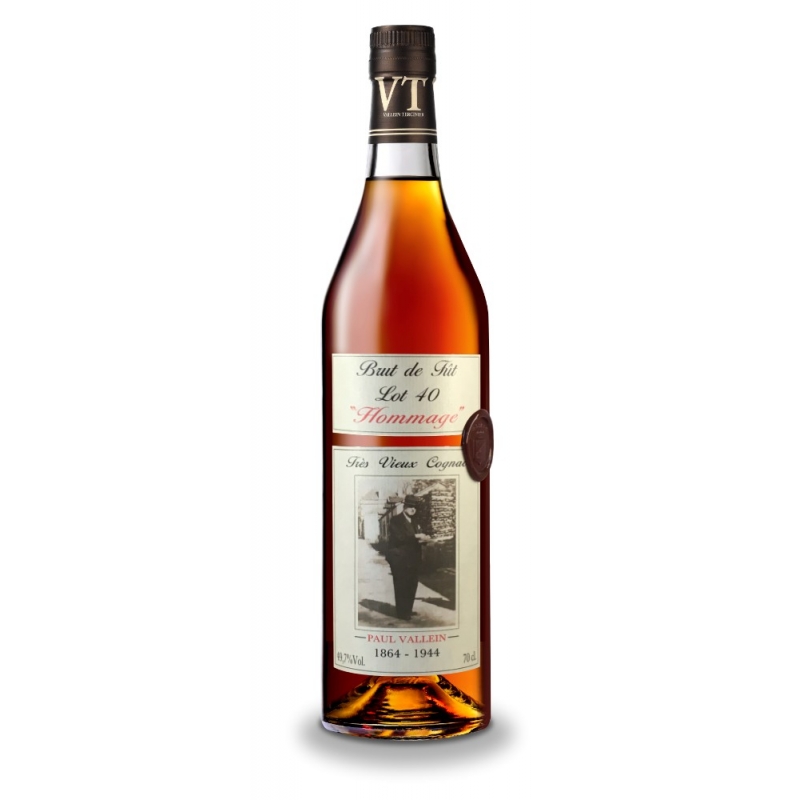  
Lot 40 Hommage Bons Bois Cognac Vallein Tercinier
Cognac Vallein Tercinier Lot 40 Hommage Bons Bois Brut de Fût
This rare and magic Cognac, steeped in history, has been distilled in the property during the Second World War.
In wooden box
Description
SINGLE CASK of 570 bottles.
UN-CHILLFILTERED, NATURAL COLOR
Bottled in 2017.
"At almost 80years of age, it holds its rank with much panache! "
90/100 Serge Valentin – whiskyfun.com
After numerous decades of ageing in our cellar, This exceptional Cognac is an emotional tribute to Paul VALLEIN.
Succeeding his father Georges, founder of the Cognac house in 1850, he developed strongly the activity and the qualitative fame of the property.
Having no children, he transmitted to his nephew Louis TERCINIER knowledges and values, which will be transmitted by generations to next generations until nowadays.
With delicacy and exceptional and rare emotion, this cognac was bottled in the property in 2017, Non-chill filtered.
Complex in nose with a surprising freshness for a very old cognac, Supported by light and elegant "rancio" particular note of very old Cognacs.
Magnificent balance, flavors of undergrowth, jasmine, locust tree, truffle and crystallized apricots. Ample, dense nose with conjugate notes of mushrooms and licorice. Fat mouth marked by flavors of crystallized prune, violet and candied fruits. Very long obstinacy marked by the caramelized fennel, the honey and the spices.
Harmonious final marked by the "rancio" and the truffle.