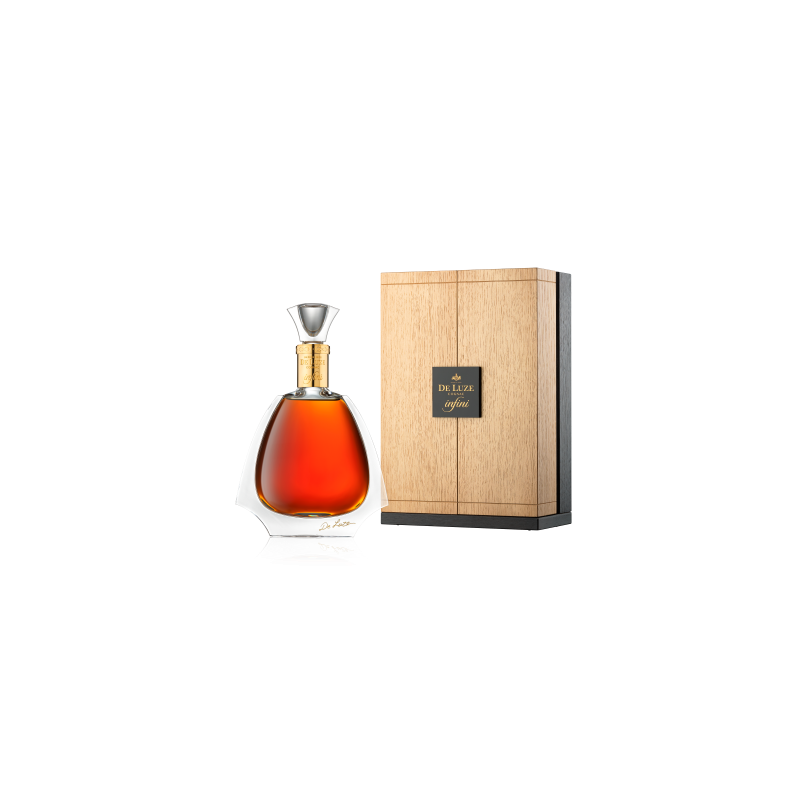  
INFINI Cognac De Luze
Cognac Infini is the fruit of age-old know-how handed down from generation to generation.

These eaux-de-vie from Grande-Champagne find their gustatory peak in a unique blend, sublimated in an exceptional 2.2kg crystal decanter, made by 14 craftsmen.

Infini is born through the hands of men and women with unique know-how: mouth-blown, hand-cut, engraved and decorated with 24-carat gold.
Description
AN INFINITE DELIGHT

Infini is a complex blend of old eaux-de-vie, carefully matured in a cellar with a high level of humidity to give it suppleness and roundness with a natural reduction.

This cognac will offer you a richness and aromatic power that will reveal itself in the mouth and will last for many minutes.

COLOUR: A splendid brilliant colour, combining golden, amber and mahogany hues.

FLAVOURS: Floral notes of honeysuckle and jasmine, fruity aromas of figs, apricots and candied fruit. Spicy touches of cinnamon, cigar box, saffron and nutmeg develop above the glass. Woody notes of chocolate, old port and cedar may finally reveal themselves at the end of the nose.

PALATE: A rich, velvety texture, with complex balsamic notes such as Muscat, as well as dried fruit aromas.

THE FINISH: A subtle and persistent finish, sublimated by an exceptional length in the mouth of more than 30 minutes.