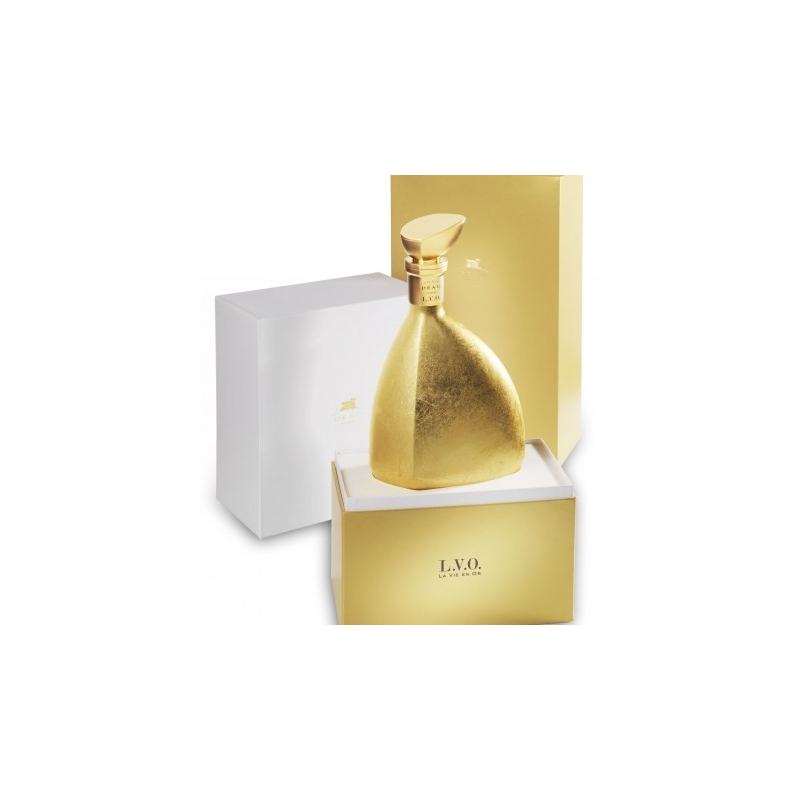  
L.V.O. La Vie en Or Very Old Cognac Deau
L.V.O. La Vie en Or Cognac Deau - Grande Champagne - Very Old

To accompany the end-of-year celebrations, DEAU COGNAC has designed a unique, rare, luxurious bottle, a real jewel adorned with gold leaf: L.V.O
Carafe of exception, very pure and sober, L.V.O preserves the secret of a rare vintage, of a great distinction Grande Champagne
Description
LVO has a sumptuous bouquet that exudes sensuality... This superb amber-hued cognac displays an impressive array of superb aromas.
Of course it shows rancio, the essential characteristic of fully  mature cognacs, but then come the luscious scents of ripe fruit and fruit compote, honey, pear, peach, fig and bitter almonds, followed by heady notes of cinnamon, vanilla, fresh tobacco and rice  powder.
Honed and complex, its flavours are mouth-filling, mellow, rich and well-balanced. Finally comes the palate-hugging fullness of the lingering after-taste of havana cigars and liquorice.
DEAU commissioned the bottle from one of Paris' finest jewellers, Arthus Bertrand. Covered in gold-leaf and housed on its base in a discreetly elegant white box, it is a true masterpiece.
L.V.O. is a cognac for true connoisseurs and collectors able to appreciate its complex flavours and aromas and indeed, the delightful rarity of the bottle.
La Vie en Or : taste, elegance and refinement.