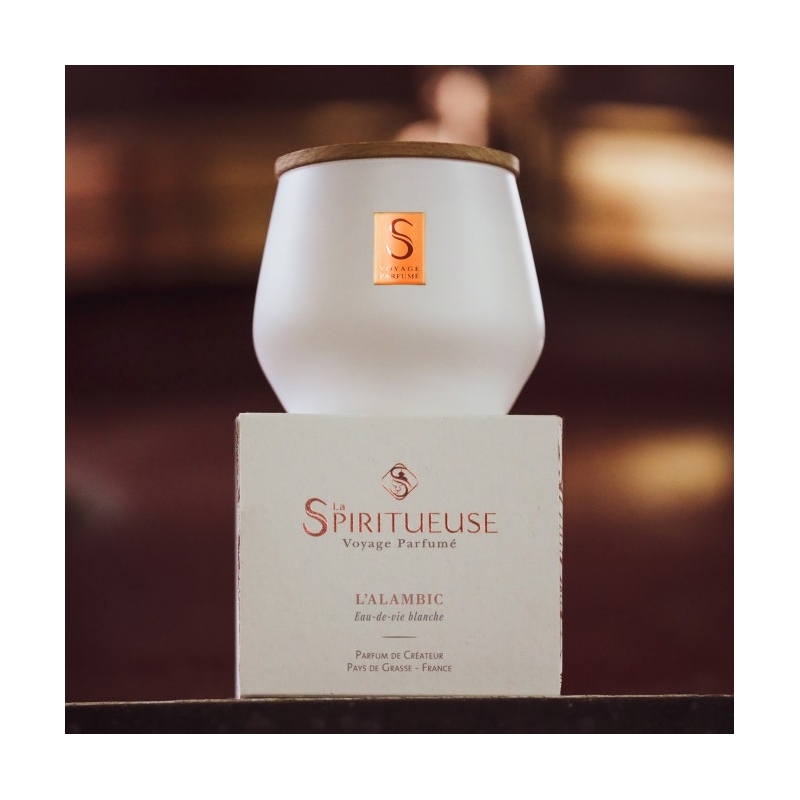  
L'Alambic Fraganced Candle La Spiritueuse
L'Alambic - Eau de Vie Blanche -  Fraganced Candle La Spiritueuse
Like a fragrant initiation, our candle 'L'Alambic, Eau-de-vie Blanche' opens the doors of a Cognac distillery during the distillation season.
Our perfumes are worked without any CMR substances (Carcinogenic, Mutagenic or Reprotoxic), without paraben, sulphate, phthalate or colouring agents.
Description
We are in winter... Here, time has no hold.

The "Charentais" alembic, all in copper, comes into action. The distiller prepares for the double distillation, an essential process for the elaboration of a cognac. Wood, red brick and fire warm the atmosphere...

A freshly distilled eau-de-vie hatched.

Its fragrances with fruity, sweet and gourmet notes awaken our senses.

This room fragrance is inspired by white eaux-de-vie destined to become cognac.

Our attention was focused on this concentration of aromas so singular, without the "alcohol" note, which these places are submerged with from October to March .
The wax

Of mineral and natural origin, our high quality wax ensures a good restitution of the fragrances. Each candle is hand-cast by our Master Waxmaker.

The wick

We have chosen a 100% cotton wick to ensure optimal burning.

The bottle

With a pure and minimalist design, our bottles shape our identity by focusing on the essential: the olfactory tones of our compositions.

A real nod to the world of spirits, its generous, round curves are reminiscent of tasting glassware.


Format: 245 gr / 8.64 oz

Burning time: 60h/65h
Craft manufacturing: Pays de Grasse, France