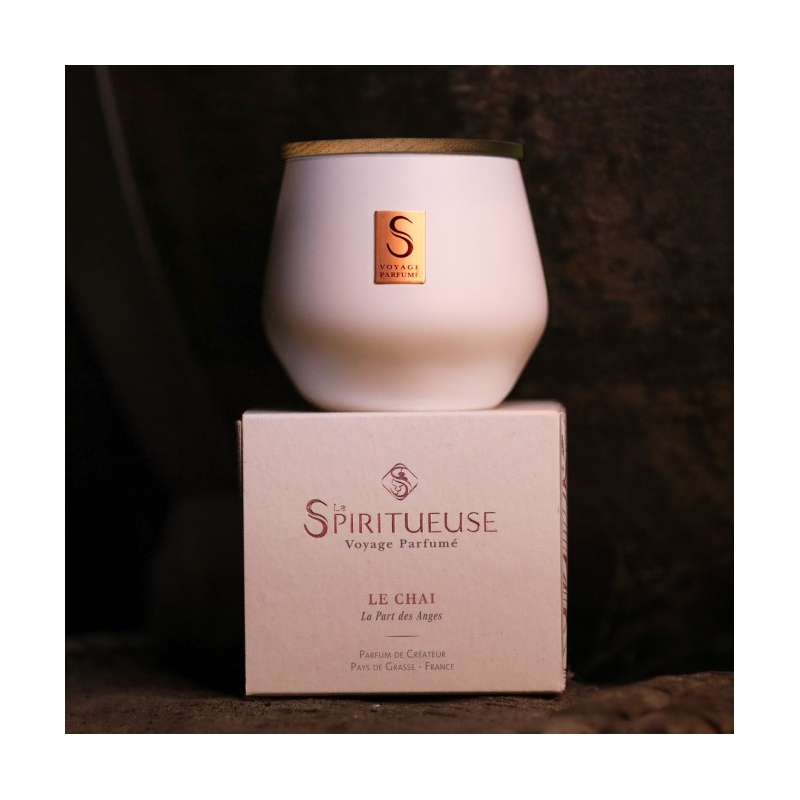  
Le Chai Fraganced Candle La Spiritueuse
Le Chai - La Part Des Anges -  Fraganced Candle La Spiritueuse
Like a fragrant ode, our 'Le Chai, La Part des Anges' candle invites you to enter a damp cellar where oak barrels of cognac are silently sleeping.
Our perfumes are worked without any CMR substances (Carcinogenic, Mutagenic or Reprotoxic), without paraben, sulphate, phthalate or colouring agents.
Description
Exchanges take place between the oak of the barrel and the brandy. This is how the perfumes, the amber colour and the aromas of the future Cognac develop.

An almost religious atmosphere reigns here. The evaporation of alcohols, called "La Part des Anges" (The Angels' Share), embalms the space with woody, slightly mushroomy and enveloping scents.

This ambient fragrance is inspired by XO quality Cognac eaux-de-vie, meaning that the youngest eau-de-vie in the blend has been aged for at least 10 years in oak barrels.

Its aromas have had time to develop woody, intense and warm notes...

The wick

We have chosen a 100% cotton wick to ensure optimal burning.

The bottle

With a pure and minimalist design, our bottles shape our identity by focusing on the essential: the olfactory tones of our compositions.

A real nod to the world of spirits, its generous, round curves are reminiscent of tasting glassware.


Format: 245 gr / 8.64 oz

Burning time: 60h/65h
Craft manufacturing: Pays de Grasse, France