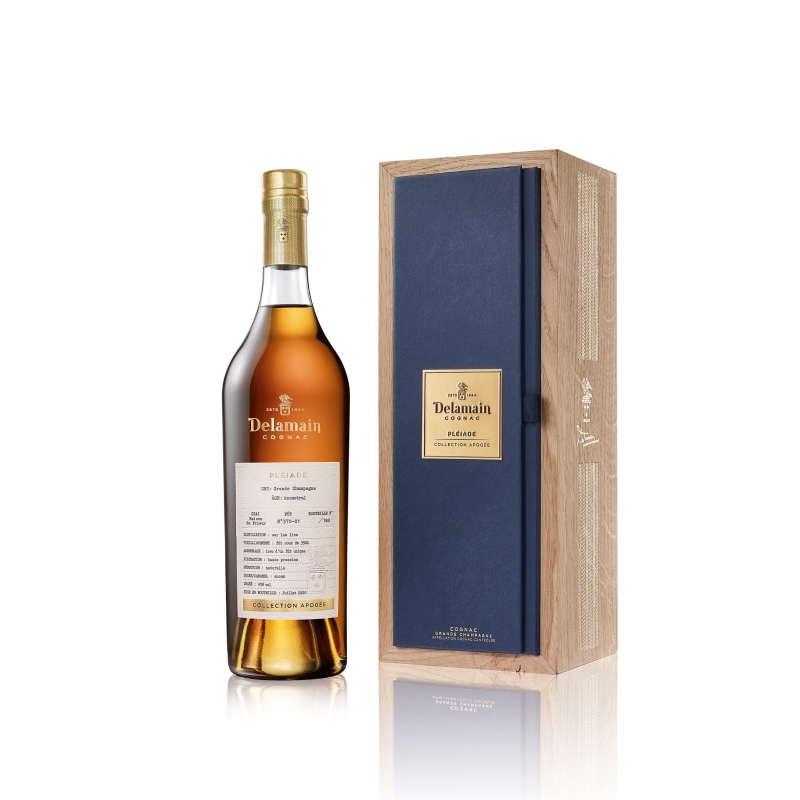  
Ancestral Collection Apogée - Pleiade de Delamain
Ancestral Collection Apogée - Pleiade de Delamain - 43.5%
Produced in limited series, the Pléiade is based on three collections, defined according to the length of ageing: Revelation, Plenitude, Apogee

Collection Apogée is made up of ancestral cognacs, eaux-de-vie so exceptional that they have reached their peak, their optimal ageing in terms of quality and complexity
Description
La Pléiade de Delamain honours treasures from its historic cellars, personally selected by the Cellar Master, Dominique Touteau.

Produced from a single harvest or a single vineyard, from a single barrel and therefore offered without blending, these cognacs have taken the time to age and are presented without any addition of sugar or caramel, thus expressing their absolute purity.
Ancestral Collection Apogée - Pleiade de Delamain - 43.5%
This Cognac has been aged to full maturity in 350L "roux" barrels made of oak from the Tronçais forest. The old barrels are called "roux" because their interior has taken on a reddish colour. They are very much appreciated by Delamain because they do not bring too much woody character to the elegant eaux-de-vie that the house matures.

This irreplaceable cask has been placed in the most emblematic cellar of the house: the Grand Chai.
Placed near a south-facing window, it has evolved in harmony with the changing seasons of the Charente.

The result is a Cognac of extraordinary elegance and finesse.


Tasting notes by Dominique Touteau :
NOSE: sweet leather and spicy notes.

PALATE: Complex, intense and elegant with aromas of cedar wood, walnut and orange peel.