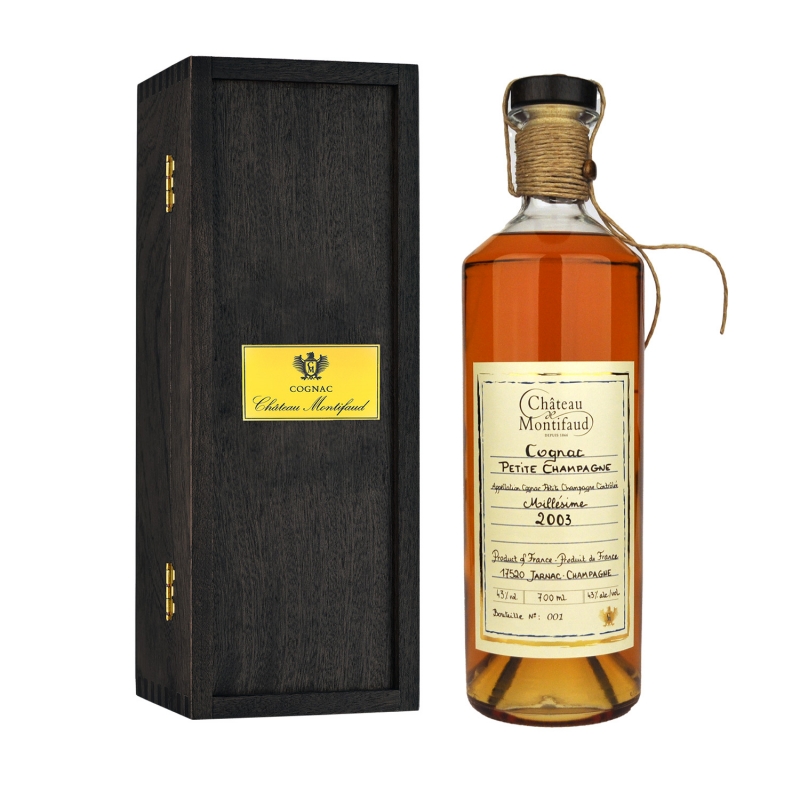  
Vintage 2003 Petite Champagne Cognac Chateau Montifaud
Limited edition of 450 bottles !
Laurent Vallet, owner of the family estate, certifies that this 2003 vintage cognac comes from the Château Montifaud vineyard located in "Petite Champagne". The 2003 vintage is the result of a very hot year.
The wines were distilled very slowly, with a lot of lees, and then the brandies were aged for many years in red barrels (French oak from Limousin) in our cellars.
The white wine is distilled with a lot of lees very slowly; it thus develops all its roundness and concentrates the floral character of our cognacs.
The "cut" is made for tasting only. The bottling is done under the control of a BNIC representative.
The bottling is done by hand at the domain, each bottle is counted by a BNIC representative.
Description
With a beautiful copper color, this cognac has a great aromatic amplitude on the nose with notes of spices, dried flowers which are well balanced with a very present rancio.
The softness and lightness of the tannins are accompanied by fruity (peach, apricot, plum), chocolate and pastry aromas.
Its bouquet of aromas offers us a complexity and a roundness in mouth very pleasant.