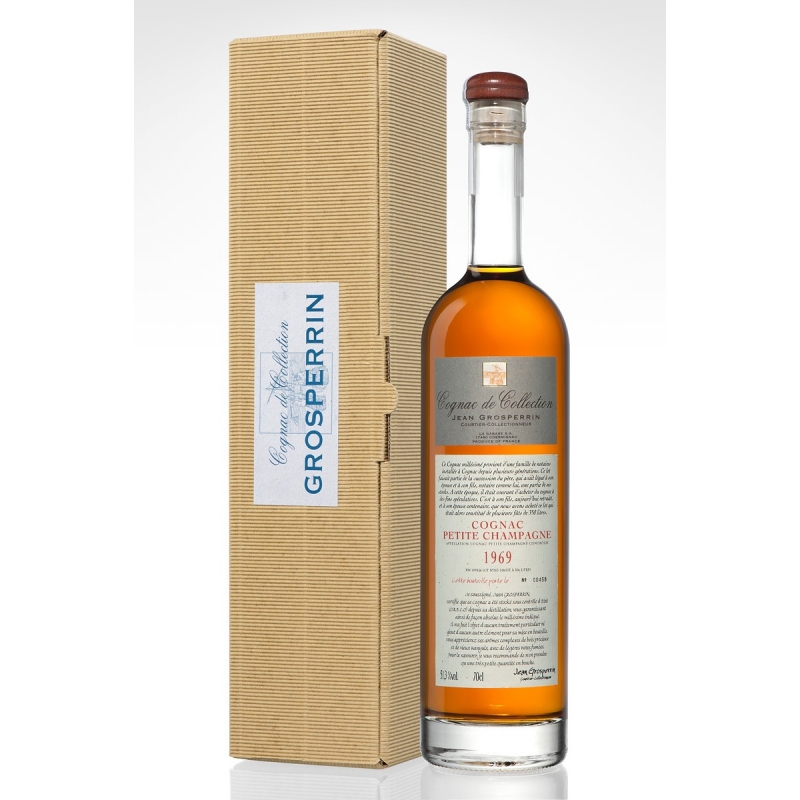  
1969 Petite Champagne Cognac Grosperrin
Gold medal, Cognac Master, London 2015 !
This vintage Cognac comes from a family of notaries settled in Cognac for several generations.
This 1969 Petite Champagne was part of the estate of the father, who had bequeathed his stocks to his wife and son, a notary like him. The father bought this lot in April 1970, thinking to resell it at a better price a few years later, as it was practiced at that time by a few well informed individuals.
Unfortunately, the oil crisis coupled with the end of the Vietnam war caused the price of Cognac to collapse shortly afterwards.
When he died, his wife and son did not get along anymore and the succession was bogged down for several decades until the Grosperrin Cognac family proposed a solution.
Description
Tasting notes :
Color: Amber color Nose: A late summer nose with notes of very ripe fruits, pears and prunes. Smoked touches, burnt notes and Christmas Pudding (candied grapes, orange peel, nutmeg).
Taste : In the mouth, power and freshness (lime blossom, hawthorn), which allows to approach serenely all its complexity.
A superb cognac, for lovers of beautiful classics in the natural.