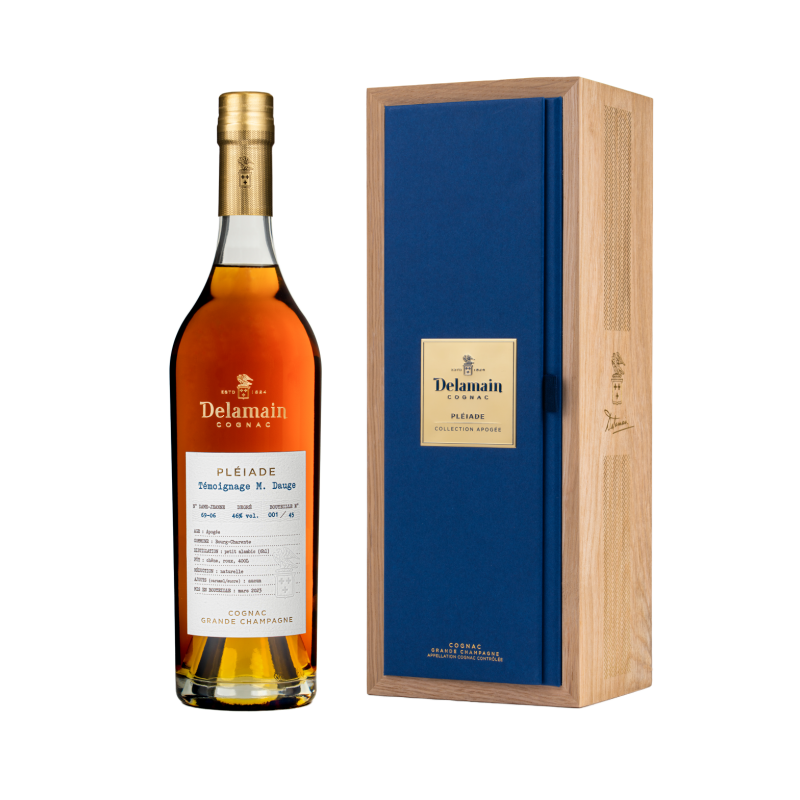  
Témoignage M. DAUGE Collection Pléiade Delamain
Very Limited Edition !
Mr. DAUGE, 85 years old, is the owner of a 10 hectare vineyard in Bourg-Charente, in the Grande Champagne region, the first and best growth of Cognac. A commune located on the left bank of the Charente.
During his tasting, Dominique Touteau, Cellar Master at Delamain, fell in love with this sublime, elegant, subtle and fruity cognac. This unique cognac was distilled in 1969 in a 6 hl still steeped in history. Having taken over the exploitation of this vineyard in 1962, Mr. DAUGE undertook to distill his first harvest in a small still which had not been used since 1914. This still was refurbished and used until 1970, before being completed by a still with a larger capacity. This cognac is therefore the result of the last production of this historical still.
Mr. DAUGE has aged this cognac for decades in his cellar, under the influence of the river. With a high humidity level, these cellars have allowed to reduce this cognac in a natural way and to round its aromas, while preserving its delicacy, its lightness and its fruity notes. This cognac was initially placed in a 600-liter redwood barrel. These large casks have the particularity of not influencing the young cognacs with their tannins and letting them initiate their aging in a subtle way, without excessive wood addition. This cognac then continued its ageing in a 400 liter barrel until its peak. It finished its long journey in Jarnac, in small 270L casks and finally in 30L dame-Jeanne casks in order to fix its unique aromatic profile.
Description
This cognac is the image of the cognacs of the house, the delicacy and finesse of its fruity aromas are associated with the rancio and the natural sweetness of old cognacs.
With its notes of ripe fig, pear and slightly buttery that reminds me of the flavors of a raisin bread.
In the mouth, its aromas are complemented by notes of leather and a hint of spice (nutmeg).