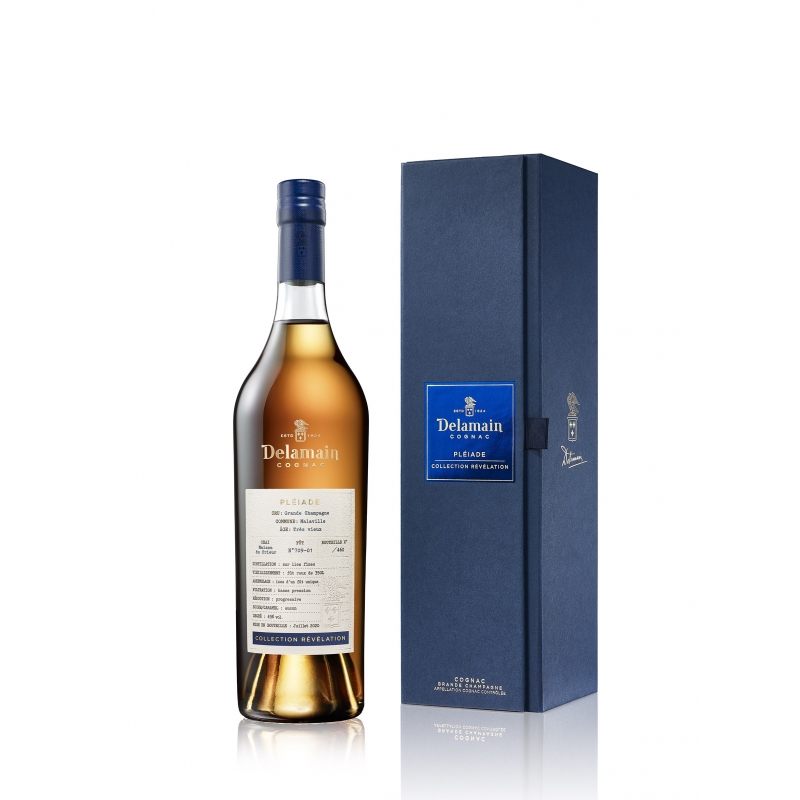  
Malaville Fût N° 707 Collection Revelation - Pleiade de Delamain
Malaville Fût N° 707 Collection Revelation - Pleiade de Delamain - 45%
Produced in limited series, the Pléiade is structured around three collections defined according to the length of ageing: Revelation, Plenitude, Apogee...
The Révélation collection is made up of very old cognacs. Several decades of ageing in oak barrels are necessary to reveal their unique personality.
Description
La Pléiade de Delamain honours treasures from its historic cellars, personally selected by the Cellar Master, Dominique Touteau.

Produced from a single harvest or a single vineyard, from a single barrel and therefore offered without blending, these cognacs have taken the time to age and are presented without any addition of sugar or caramel, thus expressing their absolute purity.

Our expertise in the ageing and blending of great Cognacs thus completes the first and most important steps in the making of an eau-de-vie: cultivation, grape harvesting, vinification and distillation.

These eaux-de-vie have been distilled in a small still, according to a particular method, with a very slow pouring at the end of a good toasting. This longer and slower approach during this second stage of distillation gives these eaux-de-vie rich fruity notes.

Malaville Fût N° 707 Collection Revelation - Pleiade de Delamain - 45%
This cognac has been aged in a 350L "roux" barrel made of oak traditionally from the forests of Limousin. "Roux" means that the inside of the barrel has taken on the reddish tint of the old barrels, which have the particularity of preserving the original typicity and elegance of the cognacs.

Tasting notes by Dominique Touteau :

NOSE: notes of vanilla, ripe cherry, muscat, quince paste, fig, spices and leather.

PALATE: ground pepper, it is round with a slight woody note due to the complexity of the natural sweetness and rancio.