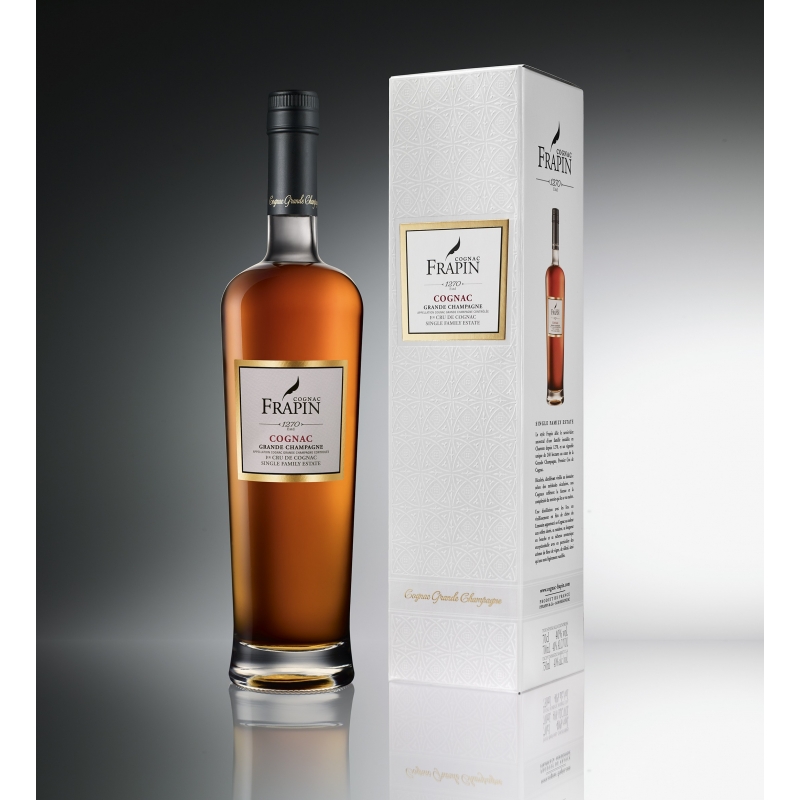  
1270 Cognac Frapin
Exclusively harvested, distilled and aged from the Frapin estate. Thanks to its great aromatic richness, Frapin 1270 can be used as an after-dinner liqueur or as an aperitif especially for mixed drinks.
Description
Tasting notes :
COLOUR: its warm, golden highlights give it a beautiful straw colour, bearing witness to its time in new Limousin oak barrels.
BOUQUET: its aromas of vine and lime blossom, with a light touch of vanilla from its ageing in Limousin barrels, promise the aromatic richness characteristic of a great cognac.
PALATE: roundness,  finesse and balance. Length on the palate due to a very special distillation over fine lees, with slight vanilla or toast notes, adding a touch of freshness and originality.
TASTING TIPS: Frapin 1270 promises a great time for those who enjoy a spontaneous aperitif. Serve with tonic water, a dash of sparkling water or simply over ice. It is ideal base ingredient for aperitifs and the most sophisticated cocktails.
AWARDS:
• San Fransisco World Spirits Competition - Double Gold 2019.
• Ultimate Spirits Challenge - 91/100 2019 (US).
• Bartenders Brand Awards - Design Trophy 2018 (UK).
• Gilbert & Gaillard - 90/100 2018 (UK).