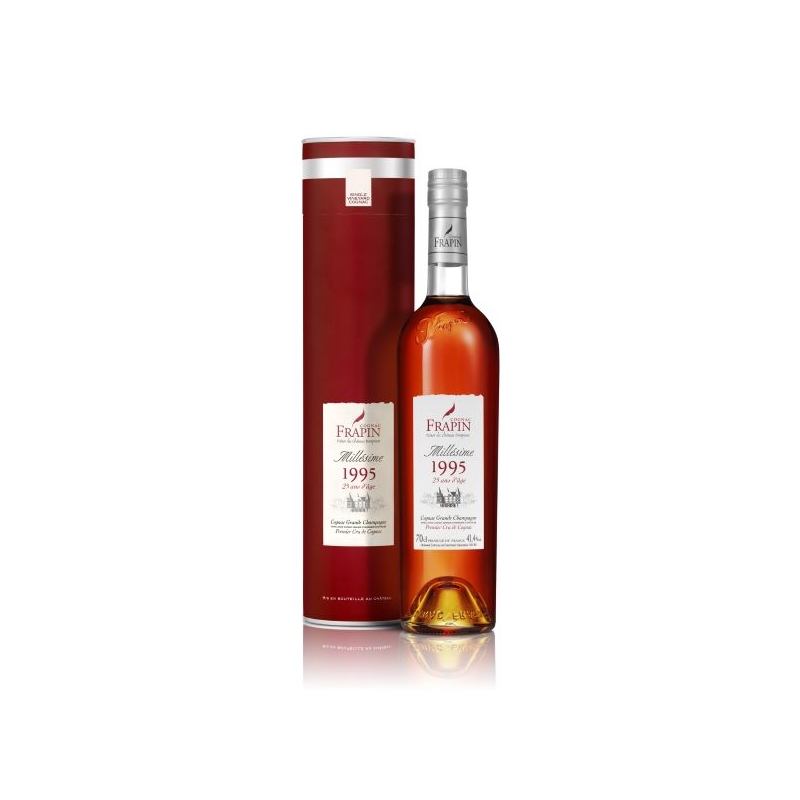  
1995 - 25 years Château Fontpinot Cognac Frapin
The summer of 1995 was hot and dry. The grapes were abundant and pulpy, which heralded a memorable harvest on this Grande Champagne terroir!
It is with happiness that the harvest begins in the last hours of September. The vineyard keeps its promises. The grapes are healthy and the harvest generous.
During the vinification, the fruit produces a juice with perfect acidity and a solid alcoholic strength. During the double distillation on the lees, the eau-de-vie is fragrant, stamped with the aromatic seal of a prodigal year. At Gabloteaux, more than anywhere else, nature had shown itself to be accommodating.
Under the control of the BNIC, the cognac was stored in a wet cellar (Chai Millésimes) to be vintage. After the effervescence, patience. As time goes by, the magic happens.
The ardour of the fire gives way to warmer notes, the greediness settles in, all in roundness and suppleness.
Description
Tasting notes :
COLOUR: A bright, silky colour with orange highlights.
BOUQUET: A zest of citrus, the sparkle of tangerine, followed by spicy notes of dried peach and gingerbread.
ON THE MOUTH: Orchard notes, fruit in full bloom that evolve into fine vanilla notes, and finally a delicate spiciness. The warmth of nutmeg meets the roundness of dried apricot.
Finesse and balance go hand in hand until the final note of rancio which lingers in the mouth, long and characteristic of old cognacs.