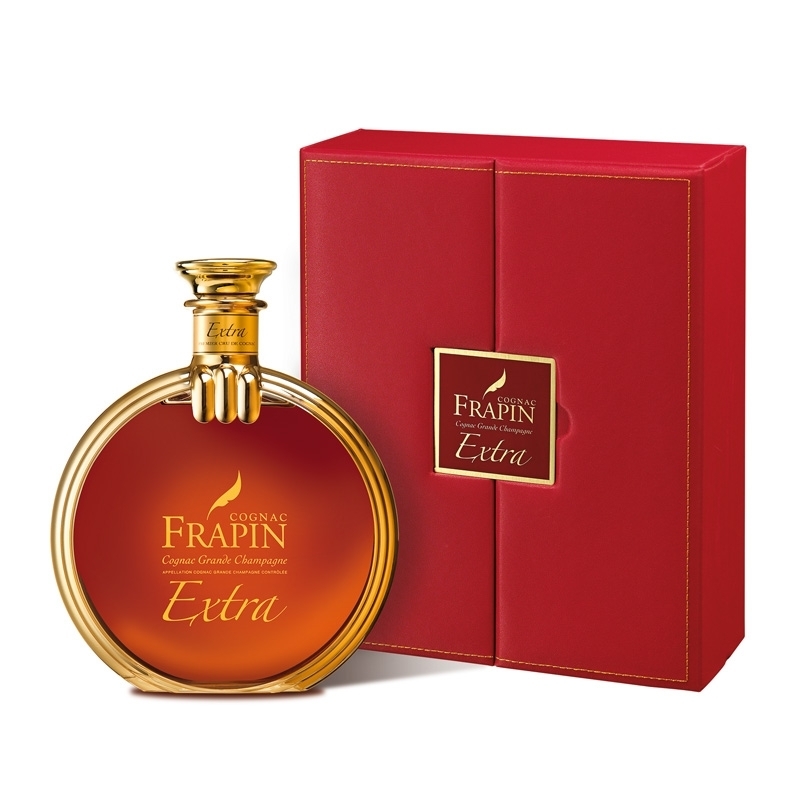  
Extra Grande Champagne Cognac Frapin
FRAPIN EXTRA Reserve Patrimoniale Cognac Grande Champagne -
A blend taken from the ancient family reserve kept by Pierre Frapin and his descendants.
Harvested, distilled over lees and aged at the estate into the heart of Grande Champagne, this exceptional cognac ages only in dry cellars over a number of decades in order to gain its beautiful finesse and elegance.


AWARDS:
• ISW - Gold medal  2020 (USA)
• World Cognac Awards - Meilleur XXO 2021
• The Cognac Masters Asia - Best XXO 2020
• ISW - Gold Medal 2019 (DE).
• The Ultimate Spirits Challenge - 97/100 2016 (USA).
• The Cognac Masters - Gold Medal 2016 (UK).
• Gilbert et Gaillard - 98/100 2016 (FR).
Description
Tasting notes :
COLOUR: the Extra offers a wonderful mahogany colour with warm copper highlights.
BOUQUET: the bouquet is very smooth, complex, developed aromas of aged port mixed with the scent of wooden cigar boxes, typical of old Grande Champagne cognacs, which appear after a very long ageing. Concentrated candied fruit aromas like apricot.
PALATE: the palate is supple, smooth, rich and luxurious, with an exceptionally long finish in which all the flavours combine in a subtle and complex harmony. Notes on the bouquet include the famous rancio (oxidative notes) found in Grande Champagne cognacs distilled over lees and aged for several decades.
To be enjoyed on its own or as an accompaniment for a special tasting experience beloved of both amateurs and the most experienced enthusiasts.
An exceptional after-dinner drink thanks to its fruitiness and finesse.