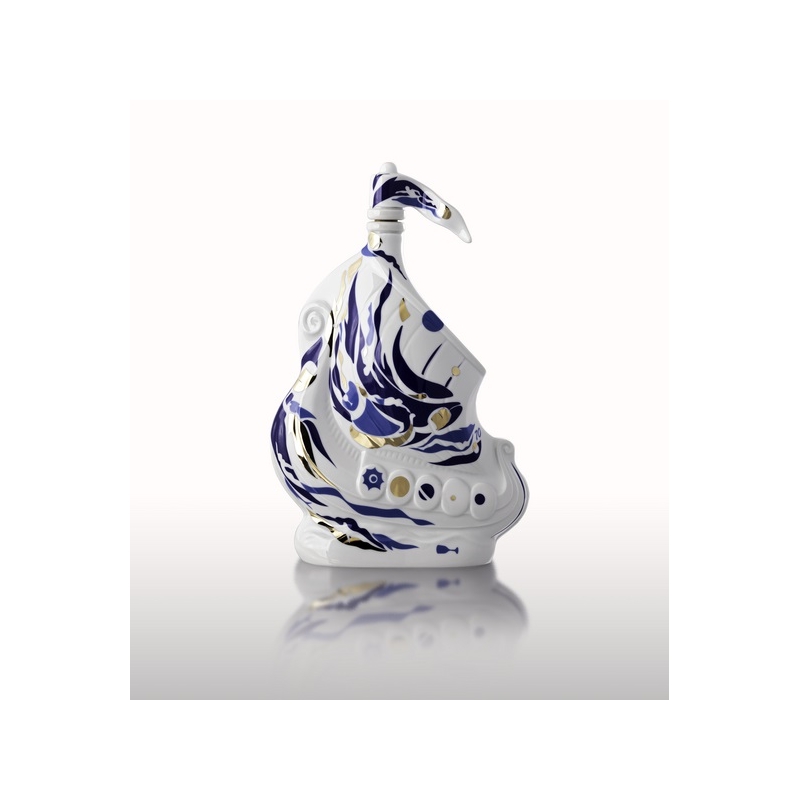  
Drakkar 70th Anniversary by Chuan Jia Cognac Larsen
Limited Edition !
WHEN COGNAC KNOW-HOW, LIMOGES PORCELAIN AND A RENOWNED CHINESE ARTIST MEET!
Description
Larsen Drakkar 70th Anniversary XO Fine Champagne is a blend of selected old cognacs from Grande and Petite Champagne. This Fine Champagne cognac is distinguished by its intense richness and complexity due to the limestone soil and the distillation on lees.
The aromatic richness is expressed through a combination of citrus aromas such as bitter orange peel and candied fruit, plum, fig, as well as spices such as cinnamon and vanilla. These aromas are complemented by notes of oak and toast.
On the palate, it is a very greedy, long and intense cognac.
Learn more about the product
Larsen Cognac is proud to present the 70th Anniversary Limited Edition of its legendary Drakkar bottle. Celebrating its 70th anniversary, this iconic ship-shaped bottle has marked the history of cognac since its launch in 1952. Over the decades, nearly 100,000 limited edition bottles have found their way into the homes of spirits lovers.
Drakkar bottles represent the Nordic heritage of Jens-Reidar Larsen, a visionary man who founded the Larsen cognac house. The first Drakkar bottle was designed at a time when cognac was experiencing growing prosperity and sales. Innovations in the glass and porcelain industry resulted in a unique bottle that quickly became iconic in the cognac world.
The new 70th anniversary edition, consisting of just 300 bottles, is a testament to the importance of the Chinese market for Larsen, while embodying the brand's core values. By collaborating with renowned artist Chuan Jia, Larsen has created a powerful link between art and the world of cognac.
Under Chuan Jia's talented brush, Larsen's Drakkar is transformed into a captivating work of art entitled "Boudless Harmony". Abstract clouds plunge into a watery world, enhanced by sumptuous details in 24-carat gold. Chuan Jia has skilfully incorporated abstract forms of swimmers, sea creatures, and symbolic elements related to cognac drinking, such as glasses and barrels.
But it's not just the appearance that makes this edition special. Inside each bottle is a gustatory treasure: XO Fine Champagne. A refined blend of eaux-de-vie from the Grande Champagne and Petite Champagne crus, known for their excellence. This cognac offers an unforgettable sensory experience, with its characteristic delicate fruit aromas and enchanting floral bouquet. Each sip is an invitation to savour the elegance and finesse of Larsen's expertise.
Larsen remains true to its tradition of quality and innovation, offering spirit connoisseurs an unparalleled experience. By combining the expertise of Larsen's Master Blender with the artistry of Chuan Jia, this Limited Edition embodies the essence of the cognac house and is a true treasure for connoisseurs to own.
Discover other Drakkar by Larsen