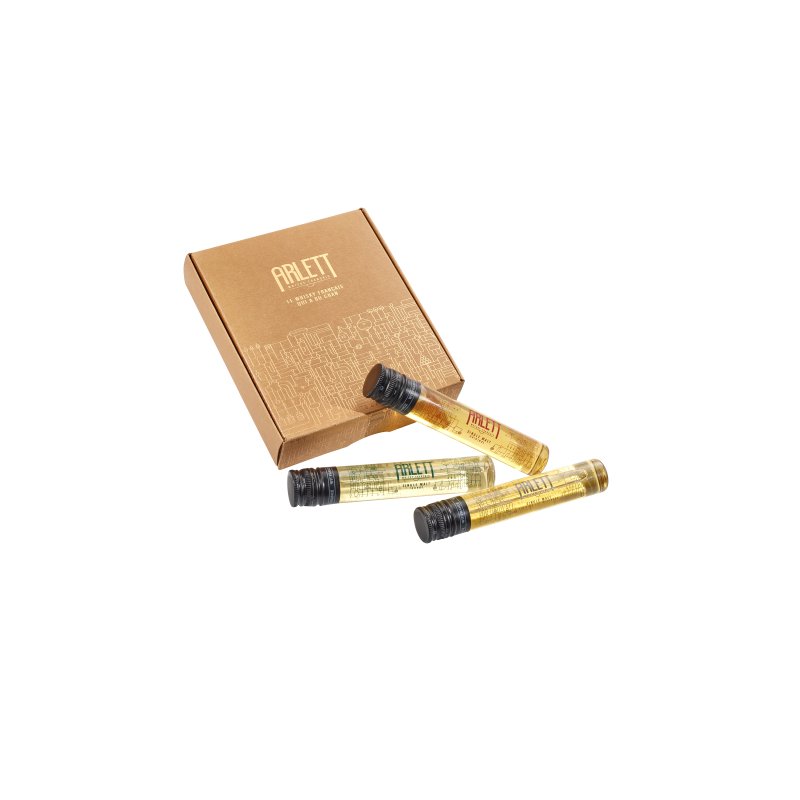  
ARLETT Whisky Single Malt Sets
The Tessendier family has excelled in the art of distillation with seriousness and passion for generations. The new project in their copper pipes is this whisky with vintage accents, a real tribute to the 1950s and to Jérôme and Lilian's mother, Arlette! This new reference is the fruit of the Tessendier brothers' constant quest for taste, for creating new spirits. Spirits that make sense and bring real innovation to the market.
Thus, by making strong choices at each stage of the creation process, from the barley to the selection of the casks for ageing, Distillerie Tessendier has created a whisky that reflects its image. And because it brews, distills and matures the entire production of Arlett, its quality is perfectly controlled.
In this box, discover the 3 whiskies (3 x 5cl) created by Distillerie Tessendier : ARLETT Original, ARLETT Tourbé and ARLETT Barrel finish Mizunara
Description
ARLELL Original:
Aged for 3 years in new American oak and bourbon barrels, it offers a rich and round aromatic power, with a good amplitude and length in the mouth.
On the nose, fruity and woody notes are revealed, followed by honey, cocoa and finally resinous notes.
On the palate, the attack is clean and frank with structured aromatic amplitude, but also velvety with a note of blond tobacco.
ARLETT Tourbé :
Aged for 3 years in bourbon casks, to let the peat fully express itself!
The expressive nose opens with an iodine and smoky note of liquorice.
On the palate, the attack is clean and frank with an assertive peaty note but which remains airy. This classic characteristic of whisky remains present during tasting with a good length.
ARLETT Barrel finish Mizunara:
50% of the blend was aged in new American oak barrels, and 50% in bourbon barrels for 3 years. Then, the maturation was done in Japanese Mizunara oak casks for 1 year.
On the nose, this whisky is expressive, it has finesse and a certain elegance on spices like pepper and cardamom.
On the palate, it is the tension between spice and freshness that prevails, with a nice length. The promise of the nose is therefore kept in the mouth.