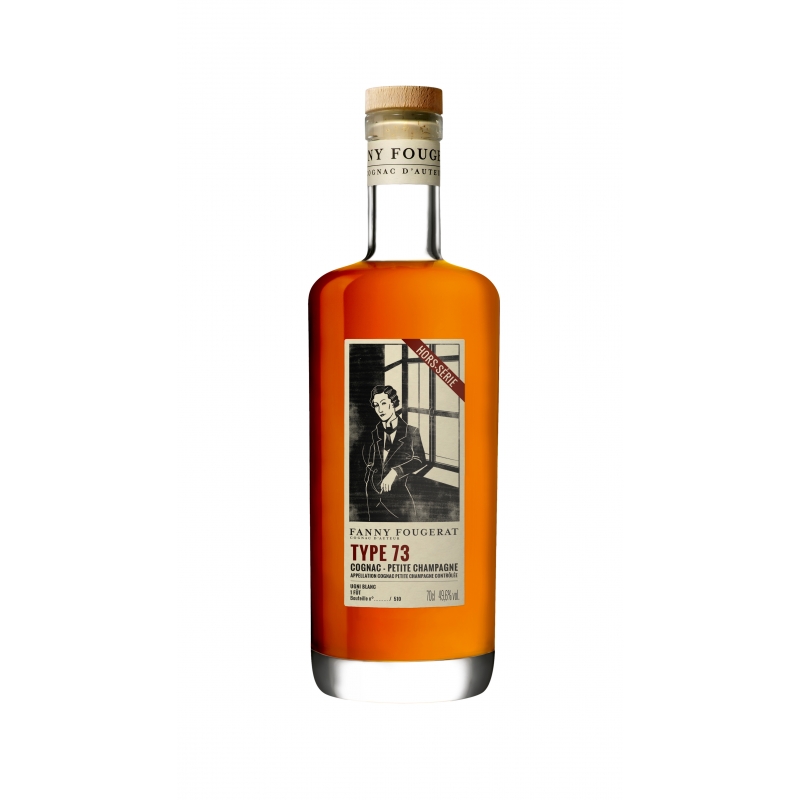  
Type 73 - Collection Hors Serie - Fanny Fougerat Cognac
Type 73 - Hors Serie Collection - Fanny Fougerat (Author's Cognac) - Limited Edition - Single Cask

A 45-year-old eau-de-vie from a unique cask unearthed in the heart of Petite Champagne ...
Description
From her village of Burie, in the heart of the Borderies cru, Fanny Fougerat continues to chart her course by standing out. It is launching a new collection, aptly named "Hors-Série" where a character on the label illustrates the cognac enclosed in the bottle.

The world of cognac no longer needs to be dusted off as the great houses have, in two decades, installed Charentaise brandy in the most trendy places on the planet. But small estates in size, like that of Fanny Fougerat, also bring their share of novelty with niche products.

Originally from Burie, Fanny Fougerat took over the family estate of around 30 hectares with her companion. Since then, signature cognacs have appeared on the scene, including Petite Cigüe, Le Laurier d'Apollon, Iris Poivré and Cèdre Blanc. "I want to promote our know-how and reveal the typicity of my alcohols, from the vine to the distillation and then during aging, we seek freshness, finesse, precision, my cognacs are refined and pleasant, they are worked without artifice. », Repeats Fanny Fougerat. Building on this philosophy, the young woman who defines herself as an author of cognacs launches the Hors-Série collection featuring characters who illustrate the character traits of the cognacs that are in the bottle.


The first opus of this collection is Type 73, a 45-year-old eau-de-vie from the Petite Champagne cru. Containing 49.6%, this cognac from a single barrel delivers a nose of orange marmalade mixed with herbal notes. The attack is explosive and rich, the 45-year-old carpets the palate for an aromatic bouquet of great nobility. The rancio sets in with aromas of tobacco and leather. This new collection by Fanny Fougerat will count among amateurs. "On the label, you can see this charismatic woman with a sustained gaze, also illustrating the 1970s", notes the winegrower and distiller. Only 510 bottles make up this lot.
AGEING: New casks at bottling.

No filtration or chilling.

TASTING ADVICE: In the evening after dinner, ideal on its own or with a coffee tiramisu.

No tricks - No sugar No caramel