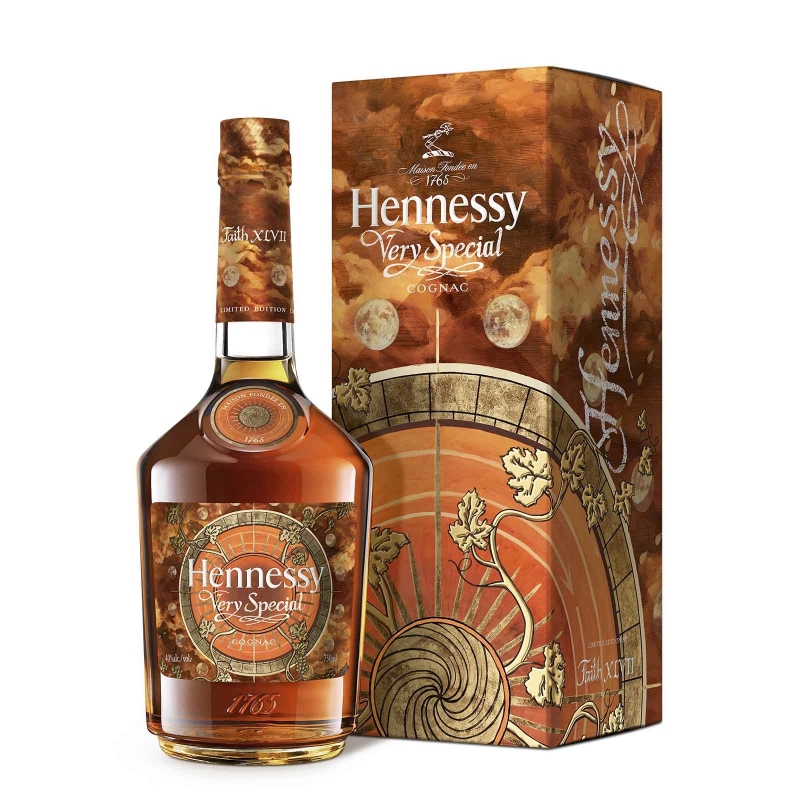  
Cognac Hennessy VS by Faith XLVII Limited Edition
Cognac Hennessy VS by Faith XLVII Limited Edition
For the 10th anniversary of VS Hennessy Limited Editions, it is the artist Faith XLVII who brings his talent to the emblematic bottle of Hennessy cognacs.
At the origin of Faith XLVII's artistic journey, from graffiti and murals to her studio work, is the desire to encourage reconciliation with nature and an awareness of its interconnected nature.

A self-taught talent, Faith XLVII has developed her artistic signature independently, forging her vision in her native South Africa from an early age. Very early on, she became one of the few artists to distinguish herself on a largely male graffiti scene. After first appearing under the pseudonym Faith,47 she evolved into Faith XLVII: "At that time, there were few women in this field. I felt the need to challenge the status quo in this predominantly male environment," she recalls.

In her work, she has approached the complex social dynamics of her country from a more feminine perspective, most notably in a series of works around the Charter of Liberty.

A multidisciplinary artist, her visual language is expressed through recuperated objects, collages, paintings, video installations and engravings. Faith XLVII approaches universal problems through the prism of her identity and femininity. "My roots are deep," she explains. «

What I discover when I create is the cumulative result of an entire life experience". For her, this work with the House of Hennessy on the occasion of the 10th Hennessy Very Special limited edition marks a new creative cycle. It "resonates with things I am constantly thinking about: the cycles of nature, the phases of the moon, the succession of seasons and the cyclical nature of time".
Description
Tasting Notes:

A light color, with amber hues.

On the nose, the freshness of roasted almonds, brown sugar, and aromas of vineyard fruits subtly complete its fragrance

In the mouth, vanilla, a fresh and floral note...