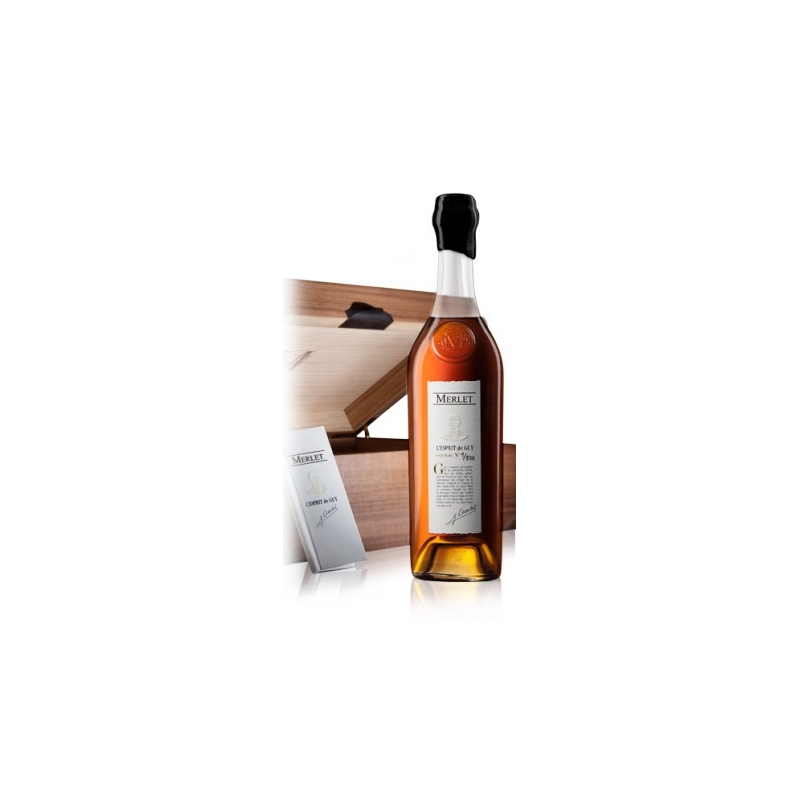  
L'esprit de Guy Cognac Merlet
L'esprit de Guy" is a 100% Fins Bois cognac, the only "cru" distilled by the family when Guy was alive. A blend of very old cognac and a 1948 cognac
Description
Guy Merlet, third generation of Distillery Merlet, father of Gilles, grandfather of Pierre and Luc, was a character of the village of St Sauvant, where he was respected and listened to. He was also a free and innovative spirit. He passed away in 1975 and remains to this day a model for Gilles and his children. The Merlets created this exceptional blend as a tribute. L'esprit de Guy" is a 100% Fins Bois cognac, the only "cru" distilled by the family when Guy was alive. A blend of very old cognac and a 1948 cognac – the year Gilles was born -, L'esprit de Guy doesn't 'look' its age! Produced in a limited series, this exceptional cognac is presented in a handcrafted, made in France, "cognaçaise" bottle. Each one is numbered and personalized with a glass stamp from Distillerie Merlet. The bottle is housed in a wooden box made with two local species, walnut and oak, symbolizing the peasant roots of Saintonge and cognac tradition. Each piece is unique and specially handcrafted by the Atelier Drevelle
L'Esprit de Guy cognac is enjoyed neat.
Colour: delicate amber, proof of a perfectly mastered maturation
Nose: Intense, with notes of ripe fruits (peach, apricot), almost candied (orange), followed by subtle aromas of cedar and spices such a cinnamon.
Palate: Soft, round, full-bodied and fresh. The fruit is still present and the woodiness is mellow. The aromas blend very elegantly. The finish is long, slightly peppery, with a bit of bitterness.