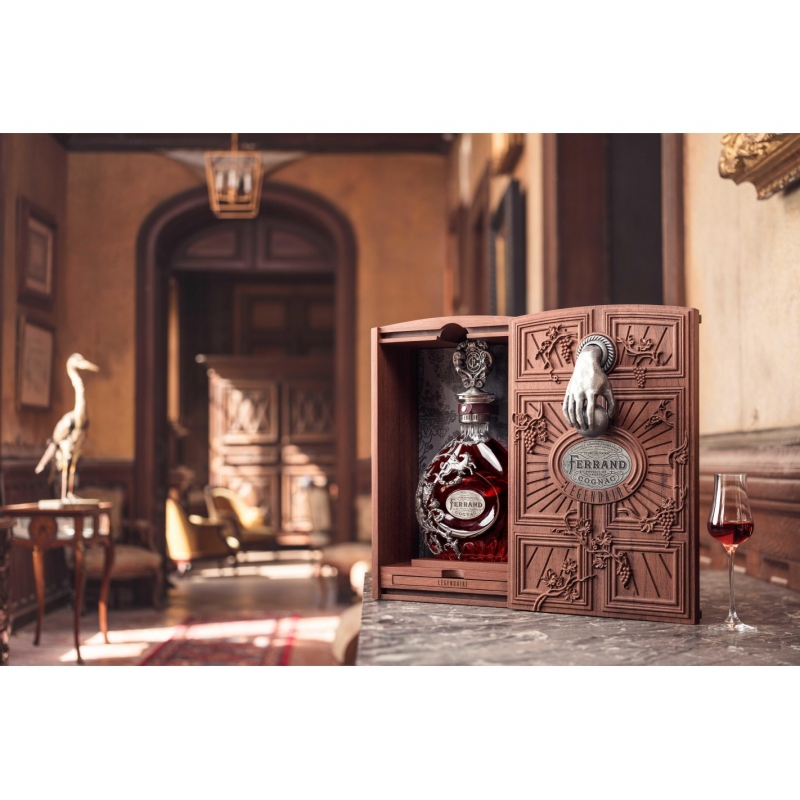  
Légendaire Cognac Pierre Ferrand
Légendaire - Cognac Pierre Ferrand : Grande Champagne
An exceptional cognac in an exceptional bottle.

With Légendaire, Ferrand pays tribute to 4 centuries of know-how.

The quintessence of the Ferrand spirit!

Légendaire, limited edition of 500 copies.
Description
Rare and precious, Légendaire comes from the blending of our oldest cognac reserves from our Paradis cellar located underground in the basement of the Manor House.

After having magnified their melting in carefully selected casks there is sometimes more than one
century and left a generous offering to the angels, they slumber in venerable lady jeans: nectars from among the nectars, they were each specially selected to enter the blend of Légendaire.

The precious elixirs have been given a final finish in a "Zèbre" cask to further reveal their excellence. Some staves are gradually removed from the original cask and replaced by new ones.

This process brings very subtle notes of tannins while preserving the elegance of the cognac.

A rare elixir for hedonists but also for the initiated, as you need to know the Maison Ferrand so well for identify the many symbols of its precious box.
AN INITIATORY BOX SET

It is the most beautiful incentive to enter to discover a world of sensations and emotions. Knock at its door: the antique knocker invites you in.

Take the time to admire and decipher the sculpted motifs around the crystal decanter. The French crystal maker Waltersperger, in Upper Normandy, was entrusted with its creation. A story of shared values, creativity and love of the material passed down from generation to generation in a company on a human scale.

Here, the purest crystal is worked entirely by hand and the bottle has been specially designed as a work of art, a sumptuous jewel.

TASTING NOTES

Of a rare smoothness and complexity, the influence of time spent melting in the barrels of our Paradis winery has given Légendaire subtle spicy notes of clove, cardamom, pepper and paprika, coated with the richness of buttered caramel, almond, vanilla and honey.

Aromas that then evolve towards a fruitier profile of tangerine, blackberry and hawthorn, combined with more racy notes of vegetable foam, cocoa and incense, accentuating the sensation of depth.