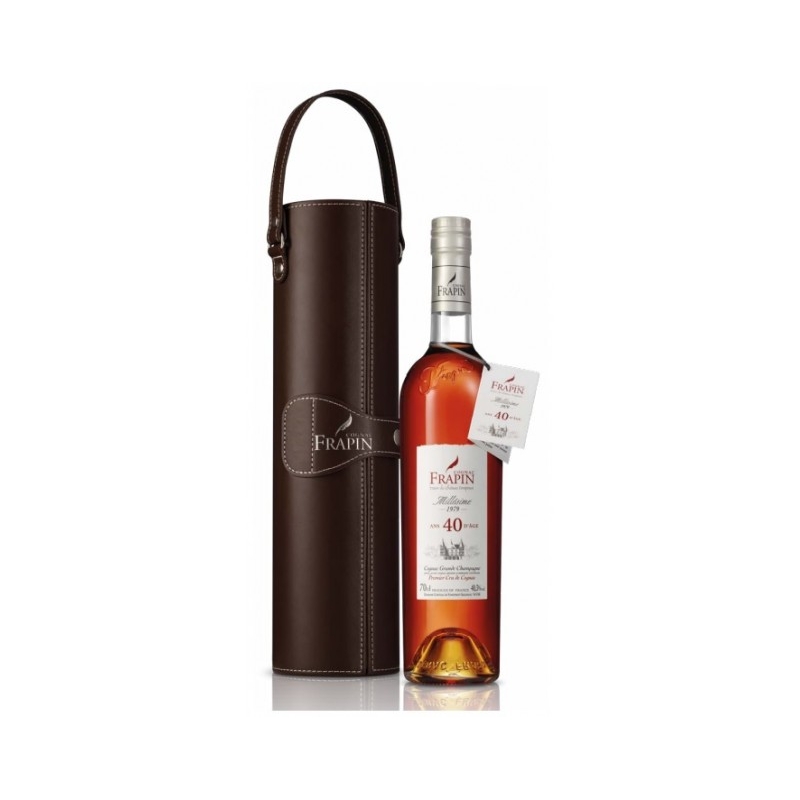  
1979 - 40 years - Trésors du Château - Cognac Frapin
1979 - Cognac Frapin - Trésors du Château - Grande Champagne
"A very limited edition of 180 from a barrel that has been jealously guarded for 4 decades in our dry cellars...".

Patrice Piveteau, Cellar Master
Description
The 1979 vintage was the first vintage launched by Cognac Frapin in 1998. At that time, a barrel was set aside to continue a longer ageing process... After 40 years of waiting, a new 1979 vintage was born.

Produced from Ugni Blanc, this cognac comes from our 240ha vineyard, characterised by a clayey limestone soil and a crumbly limestone subsoil typical of the Grande Champagne terroir. This vintage distilled on the lees has been aged for 40 years in our dry cellars in order to give it nesse and elegance...

A real treasure of the Château, it represents the House's ancestral know-how.

It is the BNIC (Bureau National Interprofessionnel du Cognac) that guarantees the authenticity of the FRAPIN Millésimés Cognacs by monitoring the sealing of the barrels in which our eau-de-vie ages.

The 1979 vintage is accompanied by a booklet presenting the cuvée, all contained in a case in
imitation leather.

COLOUR
Amber with warm orange highlights.

NEZ
Subtle and with a beautiful complexity, the nose reveals aromas of fresh fruits such as apricot, apricot, blackcurrant and blackcurrant.
Gourmet notes of pear and cocoa.

IN MOUTH
Fine and balanced, the 1979 vintage develops spicy notes. This very old vintage offers a beautiful length in the mouth as well as an exceptional rancio (notes of cigar box, port).