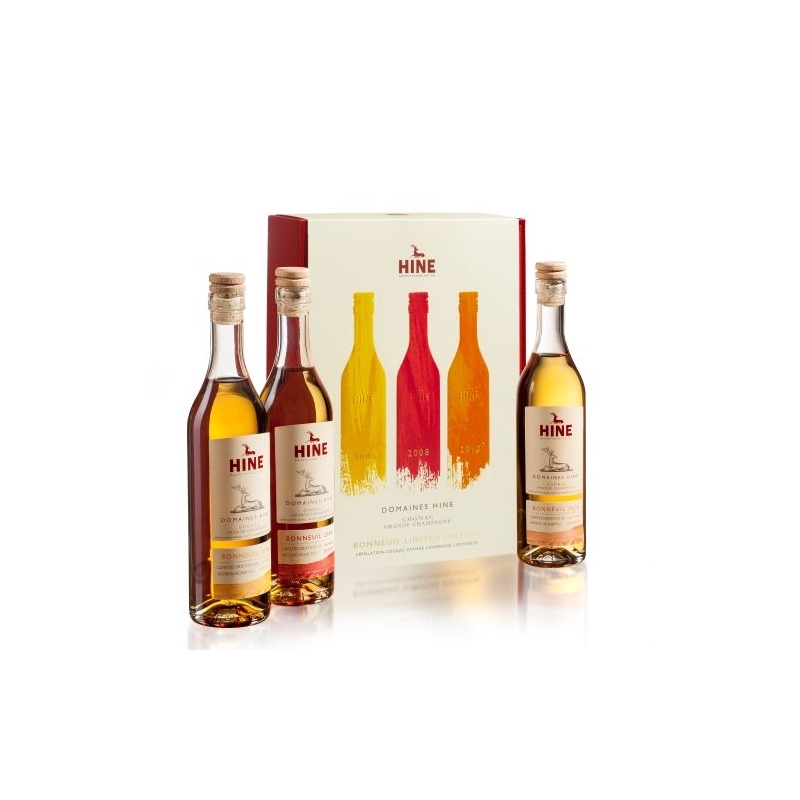  
Limited Edition Trio Bonneuil Cognac HINE
Close to the village of Bonneuil in the heart of Grande Champagne, the finest cognac cru. Hine cultivates
80 hectares of vines using environmentally friendly techniques.
Domaines Hine «Bonneuil» collection is an unblended single estate capsule series of cognacs from a single harvest, providing the purest and most accurate expression of the Grande Champagne's chalky terroir.
One terroir, one harvest, one parcel. This purist approach to cognac takes on even more meaning by allowing us to see the difference from one harvest to another. Thus a comparative tasting allows to express the whole philosophy of this concept.
Our guiding philosophy is to remain as close as possible to the wine itself and to reveal the distinct character of the Premier Cru cognac soils from which the vines draw their identity.
Set of 3 bottles of 20cl
Description
BONNEUIL 2006
Generous and suave, Bonneuil 2006 evokes candied apricot and nougat enhanced by delicate hints of toasted bread. A subtle hint of lychee awakens aromas of exotic fruits, honeyed flavours and roasted peach.
BONNEUIL 2008
Bonneuil 2008 is smooth on the nose with evocative aromas of cranberry, ripe apricot and mountain honey.
Revealing slightly sharp hints of citrus on the palate, Bonneuil 2008 is an impressively lively and elegant cognac.
BONNEUIL 2010
Bonneuil 2010 is lively with vivid aromas of tangerine and vine peach sustained by hints of white flowers and toasted bread. With remarkable tension and elegance, Bonneuil 2010 reveals great concentration and a lingering finish.