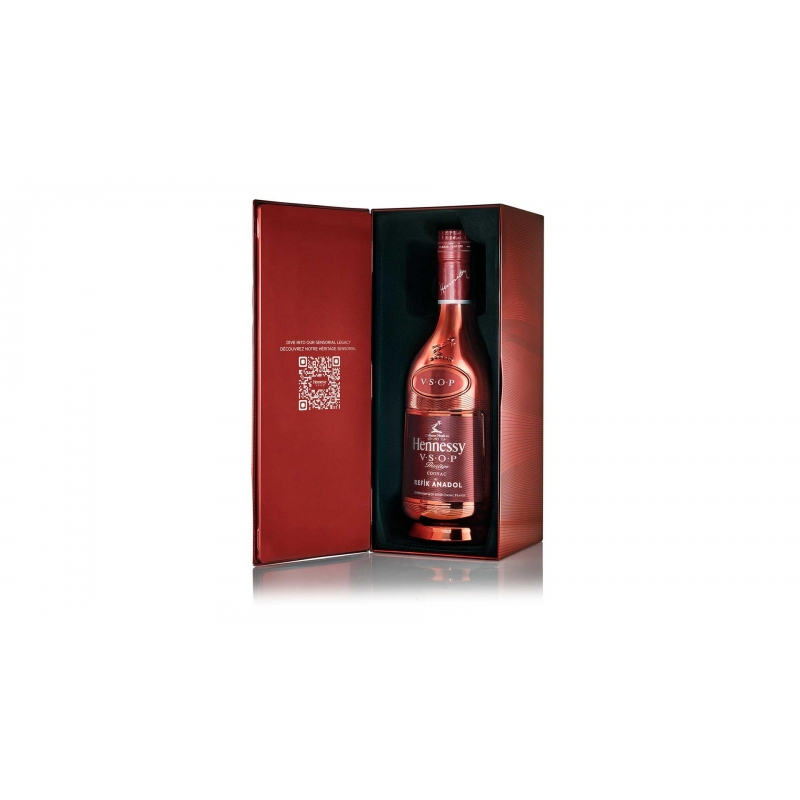  
VSOP Limited Edition by REFIK ANADOL Cognac HENNESSY
Discover the legendary VSOP Hennessy dressed by REFIK ANADOL!

Born in 1985 in Istanbul, Turkey, Refik Anadol is an artist and filmmaker, a pioneer in data aesthetics and artificial intelligence.

In his work, he situates creativity at the border between humans and machines.
In his work, he situates creativity at the border between humans and machines. Using the data around us as raw material and collaborating with the neural network of a computational mind, Refik Anadol uses an intelligent paintbrush to propose radical visions of our digitized memories, expanding the potential of architecture, narratives and the body in motion.
Description
"When I went to the Château de Bagnolet, I was convinced that I could create something original, because it is a place full of memory. Then I saw the cellars and I was interested in the smells.... When you look at the history of the House, it becomes obvious: it's just inspiration. It was a very enriching experience. Renaud Fillioux de Gironde has years of memory which are of immense importance: it is both a question of heritage and know-how. My visit to Cognac was also a great source of inspiration. Witnessing how the members of the Tasting Committee work was something very important."

"For me, data represents a form of memory and memory is a legacy... The House of Hennessy and I share a respect for the notion of heritage and its influence on the way we approach and create experiences. Another thing we have in common is our attachment to singularity and know-how, two things I respect enormously. And while we use algorithms and AI, this does not mean that we do not respect human expertise. On the contrary, the human being is at the heart of our work, as it is for the House of Hennessy."

This characterful cognac is made from a selection of robust eaux-de-vie aged mainly in old oak barrels.

It reveals aromas of fresh vanilla, cinnamon and toasted notes, which combine in a controlled balance.