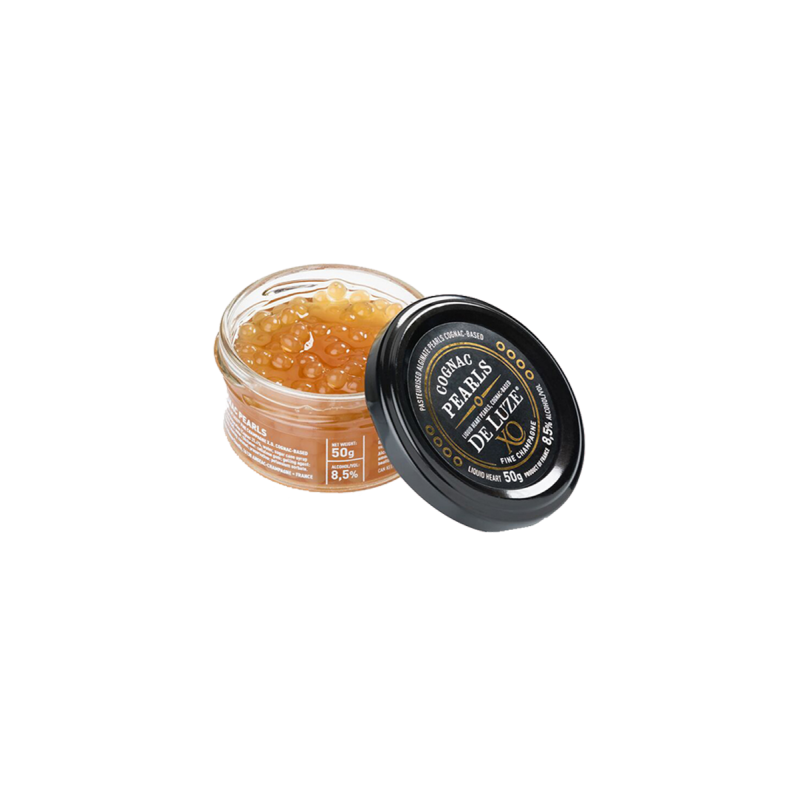  
Cognac Pearls De Luze
Unique Cognac Pearls to accompany your dishes.
Description
Cognac de Luze offers you a unique and innovative food product: X.O. Cognac pearls. In the mouth these pearls diffuse the multiple fruity aromas of soft and delicate cognac that will enchant your palate and that of your guests. Pour a hint of them into a fresh oyster, or use them to garnish foie gras toasts. The pearls are made from XO Fine Champagne Cognac De Luze. The alcohol content of the cognac is reduced to 8.5% vol. and then encapsulated in a film girl, made from natural Japanese seaweed. The pearls can marry decoration and tasting pleasure in your cocktails and dishes such as oysters, foie gras or desserts.
DE LUZE COGNAC X.O
Elegant, Smooth and tasty, Cognac De Luze - Fine Champagne is considered one of the finest cognacs in the world. The eaux-de-vie that are used in the production of Fine Champagne cognac are sourced exclusively from the Grande Champagne and Petite Champagne designated growing regions. The selection from these two unique terroirs enhances De Luze Cognac with well-rounded flavors, exquisite finesse and lingering taste. Our X.O is a rare blend of extremely old eaux-de-vie, that have been aged to perfection over many decades and meticulously blended by our Master Blender and his team to achieve its final, epic aroma experience.
Data sheet
Marque

De Luze

Degré

Terroir

Fine Champagne