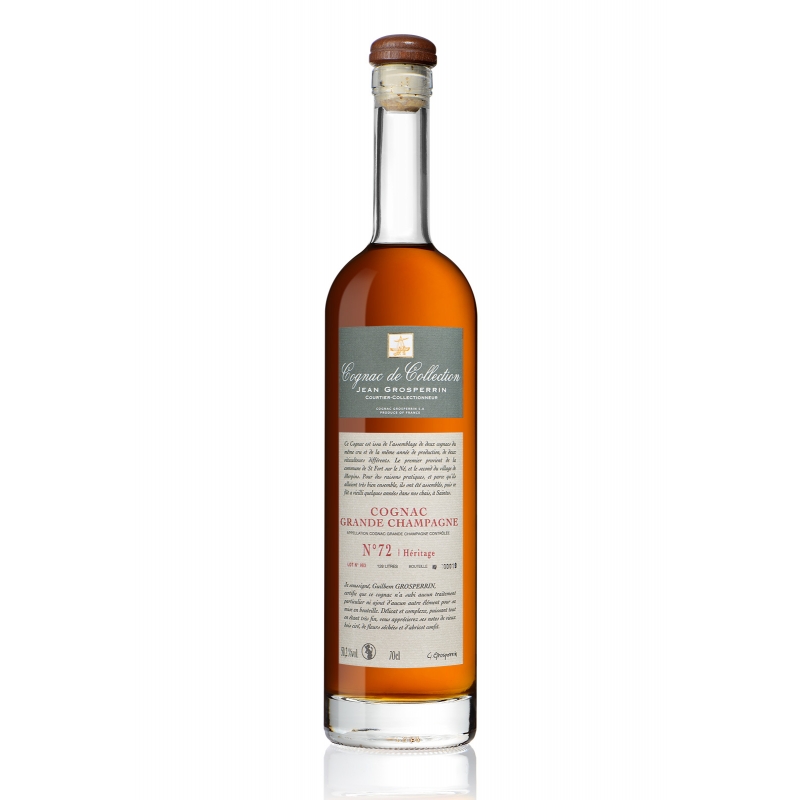  
N° 72 Grande Champagne Cognac Grosperrin
This unique cognac is the result of blending two cognacs of the same vintage, and probably the same year, from two different farms. One was located in St Fort sur le Né, where this cognac spent many years ageing in casks, and the other is located in Merpins, where this cognac was aged in a traditional cellar, in casks. These two retired winegrowers had kept these eaux-de-vie in memory of their early years.
These eaux-de-vie were purchased several years apart, and the blending of these two batches was done unexpectedly on a delivery day (sometimes the volumes purchased differ significantly from the volumes delivered), for reasons of space, after a quick tasting. With time, the marriage of these two cognacs has given an unexpected result, which is why Grosperrin cognacs offer them to us today, as the years have left them.
Attention, this is a very limited quantity!
Description
Tasting notes :

An old gold colour with amber highlights

On the nose, the notes are those, inimitable, of old Grande Champagne; warm pastries, lime trees, acacia honey, vine shoots, wet limestone, all supported by a powerful and clean amount.

On the palate, the attack is soft and progressive, the mouth is unctuous, perfumed, liquorice, daffodils, cigar box.

The finish is greedy, well-balanced, slowly rising in power.

A very fine cognac.